Previous Issues
Fall 2018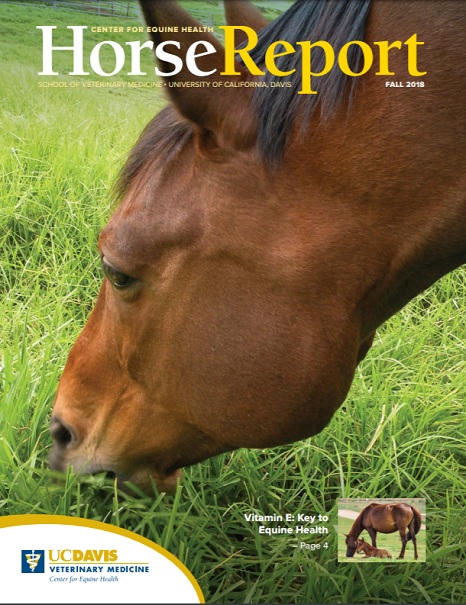 Fall 2018 - The Vitamin E issue
Vitamin E Deficiency in Horses
Vitamin E: Key to Equine Health
Importance of Vitamin E
Summer 2018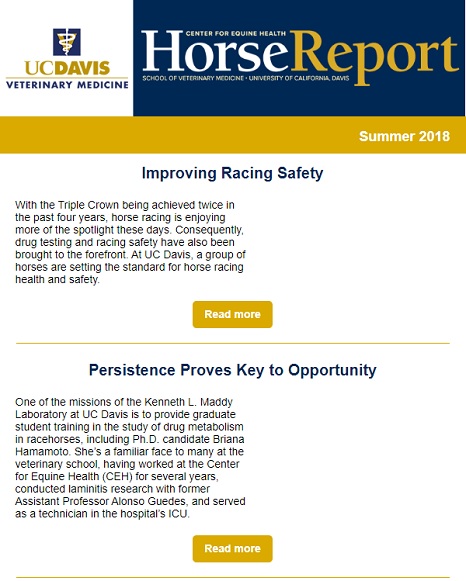 Summer 2018
Improving Racing Safety
Helping Horses Live Long and Healthy Lives
2018 Wilson Award
2018 El Blanco Award
and More.....
Spring 2018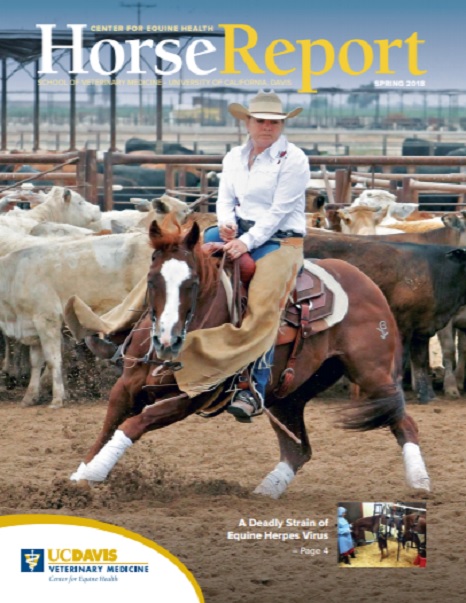 Ferraro Endowed Directorship
A Deadly Strain of Equine Herpes Virus
CEH Layup Boarding
Endowed Fund to support research
and More......
Winter 2018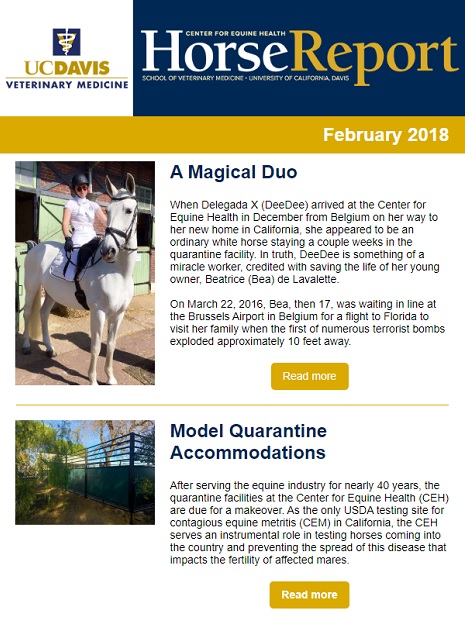 Model Quarantine Accommodations
California Wildfires
Vaccination for "Lawsonia Disease"
Champion Roping Horse Recovers from Botulism
and More.......
Fall 2017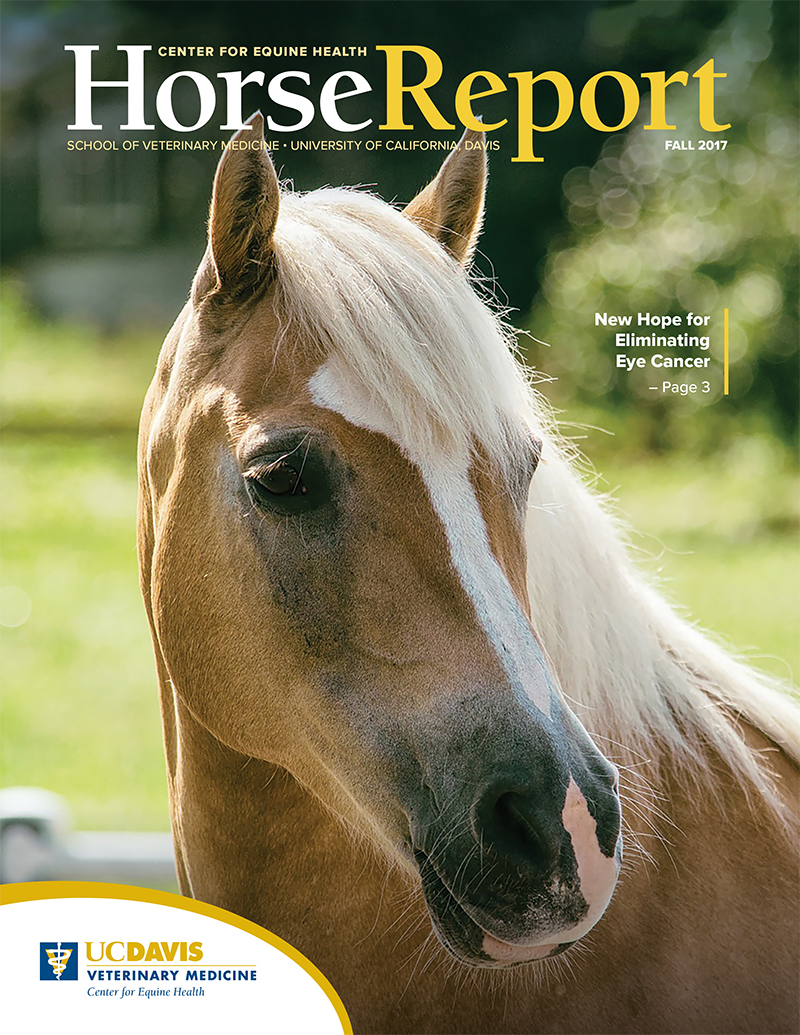 Fall 2017
Leading the Way in Equine Protozoal Myeloencephalitis (EPM) Testing
New Hope for Eliminating Eye Cancer
How Computers Aid in Mapping Equine Pain
One Horse's Transition from the Racetrack to Show Ring
...and More
Summer 2017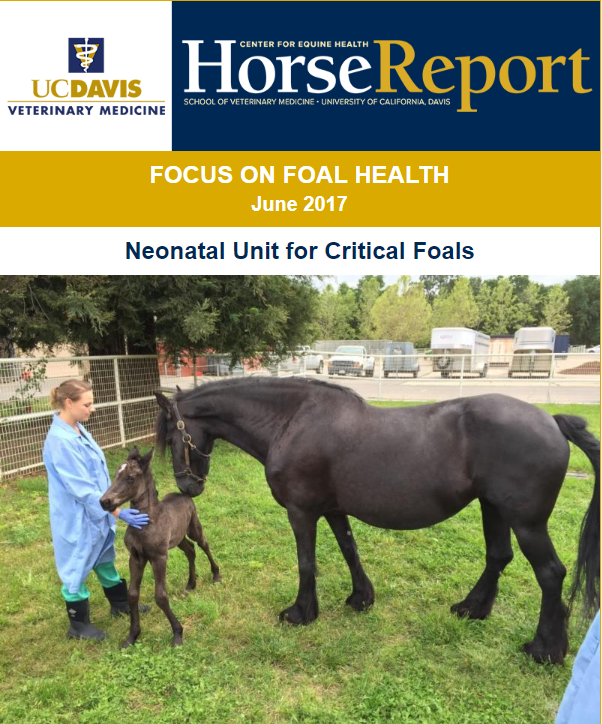 Summer 2017
Neonatal Unit for Critical Foals
UC Davis First In Vitro Equine Pregnancy
CEH hosts CEM training for USDA and CDFA
2017 El Blanco Award
...and More
Spring 2017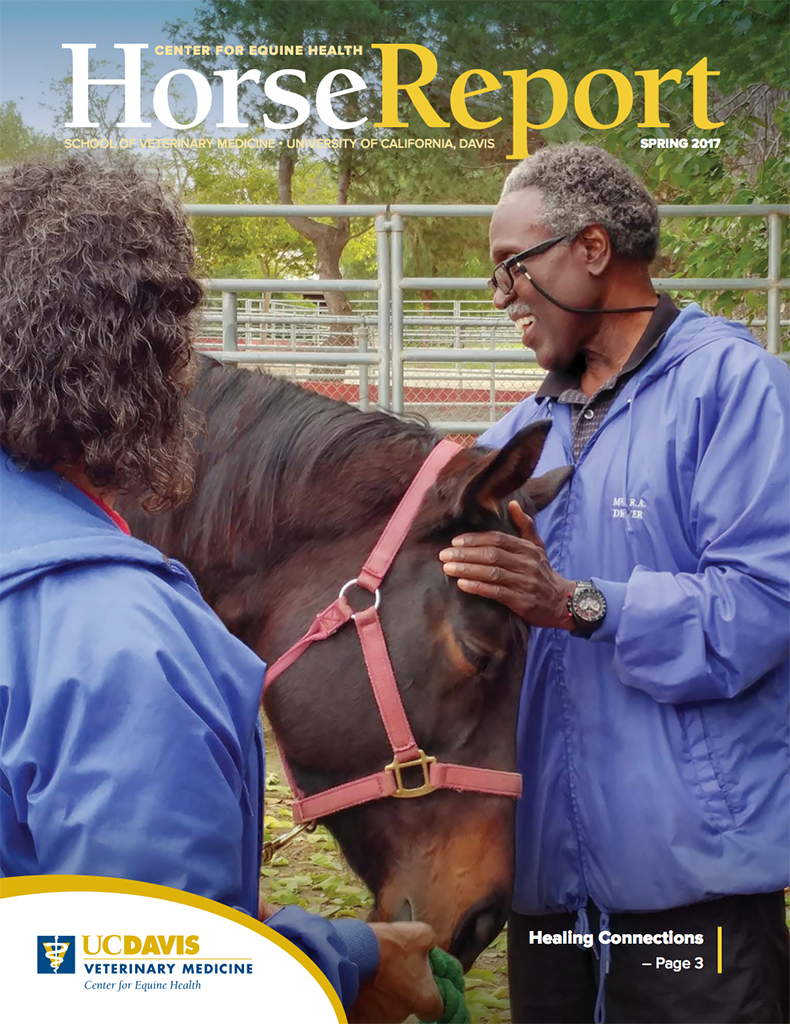 Center for Equine Health Hosts Emergency Response Expert
Unraveling a Common Neurological Disease
Regenerating Equine Athletes with Stem Cells
Leave a Legacy While Planning for the Future
A Horse Lover's Commitment to Equine Health
...and More
Winter 2017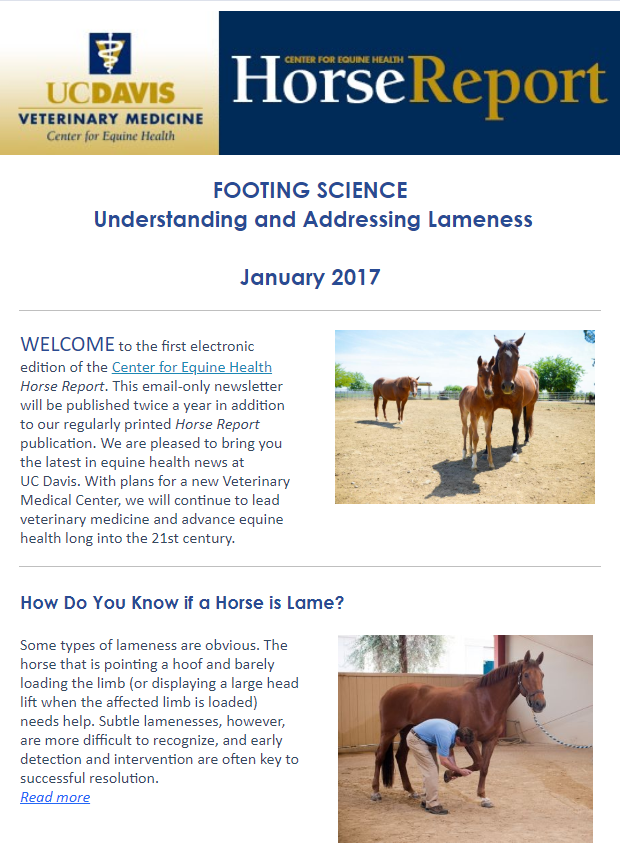 Winter 2017
Understanding and Addressing Lameness
How Do You Know if a Horse is Lame?
What is Equine Footing Science?
UC Davis Bone Scans Improving the Lives of Racehorses
...and More
Fall 2016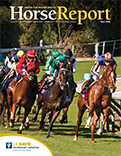 Creating a Lasting Legacy
Protecting Racing Integrity
Postmortem Examinations
Reducing Catastrophic Injuries
Advancements in Hospital Care
...and More
May 2015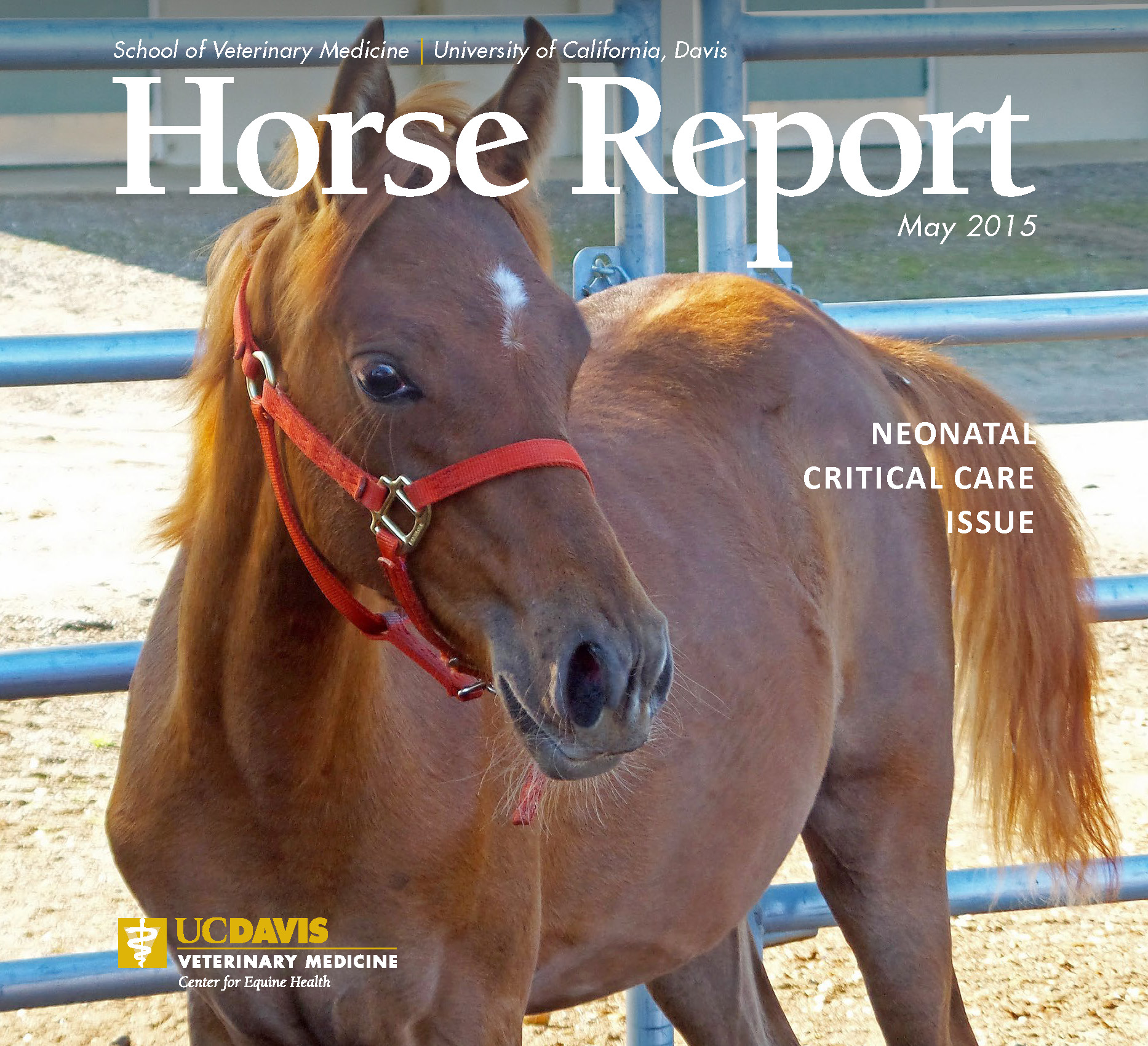 May 2015 - Neonatal Critical Care Issue
Caring for Critically Ill Newborn Foals
Intensive Care for Foals at UC Davis
Discoveries in Neonatology Made at UC Davis
What You Can Do To Promote A Healthy Foal
Winter 2014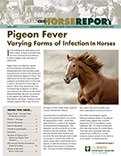 Winter 2014
Pigeon Fever: Varying Forms of Infection in Horses
External Abscesses
Internal Abscesses
Ulcerative Lymphangitis
The Role of Ultrasound in Abdominal Pigeon Fever Infections
Fall 2014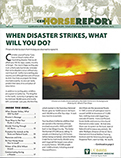 When Disaster Strikes, What Will You Do?
Disaster Training Through UC Davis
Protection for Animals at the State and Federal Levels
Do Your Horses Know How to Load?
Winner of the 2014 Wilson Award
Communicating During a Disaster
Download an Equine Emergency Preparedness poster to hang in your barn (pdf).
Video: Indirect Horse Movement with Dr. John Madigan
Video: Leading Horses with Dr. John Madigan
Summer 2014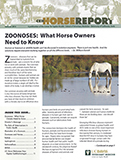 Summer 2014
Zoonoses: What Horse Owners Need to Know
The Role of Veterinarians in Public Health
Illustration of a Zoonosis
Zoonoses and Horses
How to Care for Animals Testing Positive for Salmonella
How to Care for Horses Testing Positive for MRSA
and More.....
Video: CEH Equine Vaccinations
Spring 2014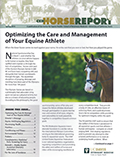 Spring 2014
Optimizing the Care & Management of Your Equine Athlete
Equine Anti-Doping Regulations
Maximizing Health
Nutrition
Conditioning and Fitness
and More....
Video - Racetrack Surface Study - Turf
Video - Racetrack Surface Study - Synthetic
Video - Equine Acupuncture and Chiropractic Exam/Treatment with Dr. Sarah le Jeune
October 2013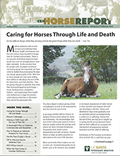 October 2013
Caring for Horses Through Life and Death
Helping a Child Cope with the Loss of Their Pet
A Meaningful Way to Celebrate, Commemorate and Remember
How to Prepare an Advance Directive for Your Horse
When the Time Comes to Consider Euthanasia
July 2013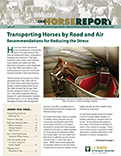 July 2013
Transporting Horses by Road and Air: Recommendations for Reducing the Stress
Reducing Transport Stress: Before Transport, During Transport, After Arrival
How Cross-Tying During Transport Affects Horses
CEM Quarantine at the UC Davis Center for Equine Health
Shipping Fever: Prevention is Key
Video - Entrance Exam for Horses Arriving For CEM Quarantine
March 2013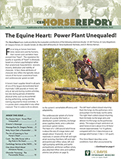 March 2013
The Equine Heart: Power Plant Unequaled
Baby Kaya Gets a Pacemaker
The Art of Listening to Your Horse's Heart
Cash: The Little Horse with a Big Hole in His Heart
Oleander Poisoning: The Preventable Illness
Video - Cardiac Auscultation, Part 1
Video - Cardiac Auscultation, Part 2
December 2012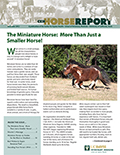 December 2012
The Miniature Horse: More Than Just a Smaller Horse!
Miniature Horses as Guides for the Blind or Disabled
Best Wishes to Zippin Bonanza Flash
Decoding Your Horse's DNA
October 2012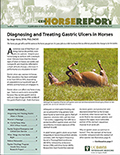 October 2012
Diagnosing and Treating Gastric Ulcers in Horses
Equine Surgical Emergency & Critical Care Service
When Things Are Not Quite Right
Dakota Rebounds!
Equine Oncology Program Unveils New Cancer Research Project
July 2012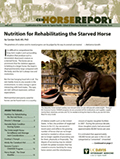 July 2012
Nutrition for Rehabilitating the Starved Horse
Henneke Body Condition Scoring System
The Underweight Horse: Surveillance and Management Considerations
Cowboy's Triumph
Mindy the Comeback Kid
Sonoma County's CHANGE Program
Video - Mindy Finds A New Home
Video - Interview With Dr. Grant Miller About the Sonoma County Change Program
April 2012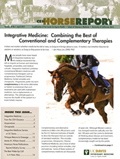 April 2012
Integrative Medicine: Combining the Best of Conventional and Complementary Therapies
Acupuncture and Chiropractic
Integrative Medicine Service at UC Davis
Wrisque Returns to Dressage
The Best Wake-Up Call Is A Near Miss
Video - Equine Acupuncture and Chiropractic Exam/Treatment with Dr. Sarah le Jeune
December 2011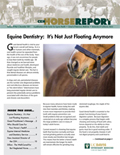 December 2011
Equine Dentistry: It's Not Just Floating Anymore
Guest Practitioner's Message
Who Should Care For Your Horse's Teeth?
Equine Internal Medicine and Dentistry Service
Dillon: The Well-Cared-For But Neglected Horse
October 2011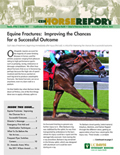 October 2011
Equine Fractures: Improving the Chances for a Successful Outcome
Emergency First Aid and Stabilization Techniques
What To Do Before the Vet Arrives
Frequent Flyer Switches Careers
Emergency Splinting Techniques for Stabilizing Equine Fractures chart to know when use of the Kimzey splint is appropriate
Chart of Emergency Splinting Techniques for Stabilizing Equine Fractures (pdf)
View the video demonstration by Dr. Galuppo on applying the Kimzey Leg Saver splint.
July 2011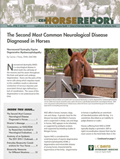 July 2011
The Second Most Common Neurological Disease Diagnosed in Horses
Commentary on NAD/EDM by Researchers Involved in Neurological Evaluations
Anatomy of an Epidemic: The 2011 EHV-1 Outbreak
Everyday Biosecurity Considerations for Your Horse
Biosecurity Measures for Different Situations
Video- Demonstration by Dr. Carrie Finno of the clinical signs of neuroaxonal dystrophy/equine degenerative myeloencephalopathy
April 2011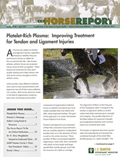 April 2011
Platelet-Rich Plasma: Improving Treatment for Tendon and Ligament Injuries
Aidan's Long Road to Recovery
The Horse Report To Be An Online Publication
Dr. K. Gary Magdesian Named to Endowed Chair
AAEP Foundation Names Carrie J. Finno Past Presidents' Fellow
Rocky's Story
July 2010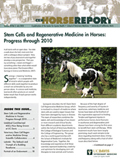 July 2010
Stem Cells and Regenerative Medicine in Horses: Progress Through 2010
Umbilical Cord-Derived MSCs Now Being Grown at UC Davis
Veterinary Stem Cell Regenerative Medicine Group Scientific Collaborators
Lukimbi: The Setback and Triumph of a Budding Racehorse
Portrait of an Endowment
March 2010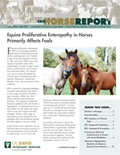 March 2010
Equine Proliferative Enteropathy in Horses Primarily Affects Foals
EPE: Summary of Clinical Signs
EPE: Diagnostic Evaluation
EPE: Treatment & Prevention
Transvenous Electrical Cardioversion in Horses with Atrial Fibrillation
Veterinary Regenerative Medicine Conference Receives Rave Reviews
December 2009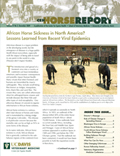 December 2009
African Horse Sickness in North America? Lessons Learned from Recent Viral Epidemics
The Role of Climate Change in Spreading Disease
Bluetongue Virus in Europe
African Horse Sickness
Could African Horse Sickness Follow Bluetongue Virus?
July 2009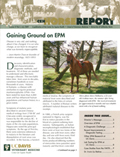 July 2009
Gaining Ground on EPM
Overview of EPM
A Diagnostic Challenge
Recent Improvements in Diagnostic Testing
Laboratory Testing for EPM at UC Davis
April 2009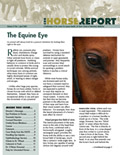 April 2009
The Equine Eye
Eye Problems in Horses
Traumatic Injuries
Corneal Disorders
and More....
October 2008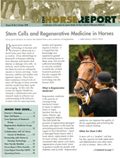 October 2008
Stem Cells and Regenerative Medicine in Horses
Stem Cell Regenerative Medicine Group
UC Davis School of Medicine's Stem Cell Program to Collaborate with Veterinary School's Regenerative Medicine Group
UC Davis Stem Cell Regenerative Medicine Group Partners with Vantus of ThermoGenesis Corporation to Develop Stem Cell Technology
July 2008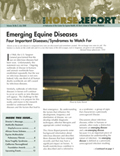 July 2008
Emerging Equine Diseases: Four Important Diseases/Syndromes
Methicillin-Resistant Staphylococcus aureus
African Horse Sickness
Equine Multinodular Pulmonary Fibrosis
Bone Fragility Syndrome
April 2008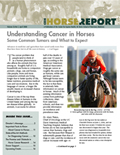 April 2008
Understanding Cancer in Horses: Some Common Tumors and What to Expect
Important Facts to Know About Cancer in Horses
State-of-the-Art Methods for Diagnosing Cancer
The Promise and Obstacle in Horse Cancer Research
Donor Support
January 2008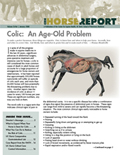 January 2008
Colic: An Age-Old Problem
What to Expect When Your Horse Is Seen for Colic at the UC Davis Veterinary Medical Teaching Hospital
What You Can Do To Reduce the Risk of Colic in Your Horse
UC Davis Comparative Gastroenterology Laboratory
October 2007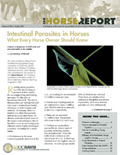 October 2007
Internal Parasites in Horses: What Every Horse Owner Should Know
How to Succeed at Parasite Control
Tips for Controlling Flying Insects
Efficacy of Anthelmintic Drugs Used in Horses
Drug Resistance in Equine Parasites: A Cautionary Tale
July 2007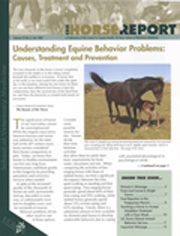 July 2007
Understanding Equine Behavior Problems: Causes, Treatment and Prevention
From Lost Cause to Bright Future
Foal Rejection in the Postpartum Period
Teaching a Horse to Accept Inhalation Treatment with a Face Mask
April 2007
April 2007
Awakening the Dormant Dragon: Neurological Form of Equine Herpesvirus-1
Isolation and Quarantine Procedures To Prevent the Spread of EHV-1
Diagnostic Testing for EHV-1
Status of Vaccination Against EHV-1 Myeloencephalopathy (Neurological Form)
Everyday Biosecurity Considerations for Your Horse
Biosecurity Measures for Different Situations
How to Set Up a Disease Isolation Unit at a Farm or Horse Show
January 2007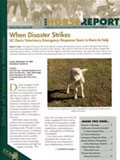 January 2007
When Disaster Strikes - UC Davis Veterinary Emergency Response Team is There to Help
California's Animals to be Included in State Disaster Plans
UC Davis Veterinary Emergency Response Team
Rescue Mission: Perspective of the Veterinary Student
Disaster Preparedness for Horses
The Juliette Weston Shur Fellowship Fund
October 2006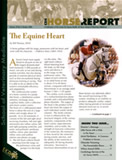 October 2006
The Equine Heart
Little Horse with a Big Hole in His Heart
Atrial Fibrillation: A Common Problem in Horse
Oleander Poisoning: The Preventable Illness
Dr. Jeffrey Norris Wins the 2006 Wilson Award
Cardiology Service at the UC Davis Veterinary Medicine Teaching Hospital 
July 2006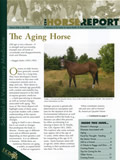 July 2006
The Aging Horse
Diseases Associated with Aging
Food for Thought: Feeding the Senior Horse
Gift to a Friend
A Tribute to Peggy and Dino
Tips for Caring for the Older Horse
January 2006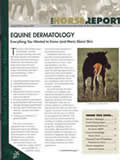 January 2006
Equine Dermatology - Everything You Wanted to Know (and More) About Skin
Control Flying Insects To Protect Your Horses
Dermatology Service at the UC Davis VMTH
Equine Dermatology History Form
An Ongoing Case of Pemphigus Foliaceus in a Foal