The Horse Report
Current Issue
Summer 2020 - Special Issue: Horse Genetics
Modes of Inheritance for equine genetic diseases and conditions
AQHA "five-panel" test
UC Davis Veterinary Genetics Laboratory equine genetic testing
Available breed-specific equine genetic tests
10 Things You Might Not Know About Equine Genetics
Past Issues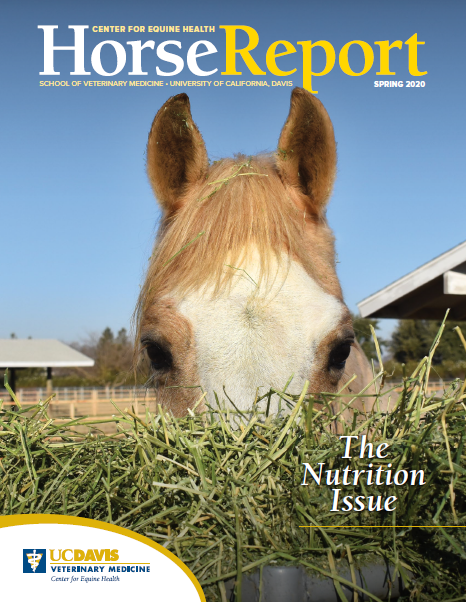 Spring 2020 - The Nutrition Issue
Equine Metabolic Syndrome (EMS)
Pituitary Pars Intermedia Dysfunction (PPID, a.k.a. Cushing's Disease)
Selenium deficiency
Nutrition management for neuromuscular disorders
10 Things You Might Not Know About Equine Nutrition
and More.....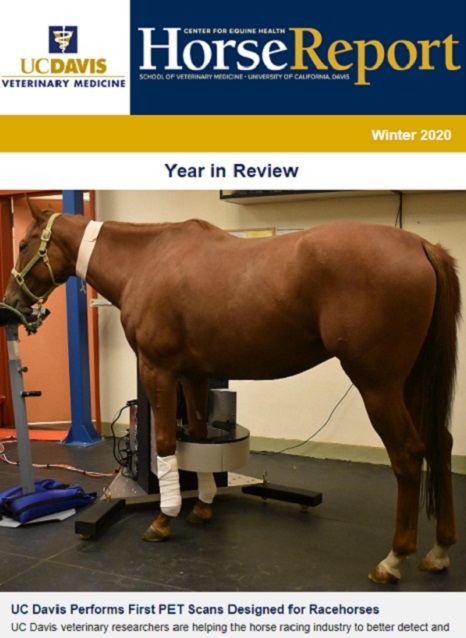 Winter 2020 - Year in Review
UCD Performs First PET Scans Designed for Racehorses
Equine Therapy Helps Dementia Patients
Dr. Gregory Ferraro Appointed to California Horse Racing Board
Fragile Foal Syndrome Not Associated with Catastrophic Breakdown in Thoroughbreds
Equine Clinical Successes of 2019
and More.....
Fall 2019- The Hoof Health Issue
UCD Veterinary Hospital Farrier Shop
Investigating Causes of Underrun Heels in Racehorses
Arena Footing
10 Things You Might Not Know About Horse Hooves
and More......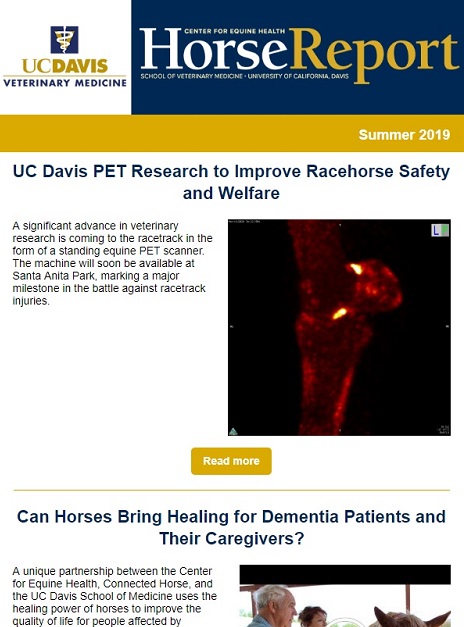 UC Davis PET Research
Horses Bring Healing for Dementia Patients
Foal Gut Health from Birth to Weaning
New Approaches to Pain Management
and More.....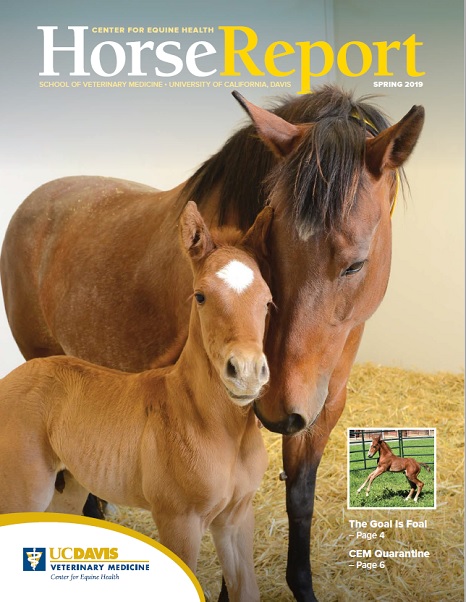 Spring 2019 - The Reproduction Issue
Studying Mare Fertility
The Goal is Foal
CEM Quarantine and Testing
UC Davis Equine Reproduction Service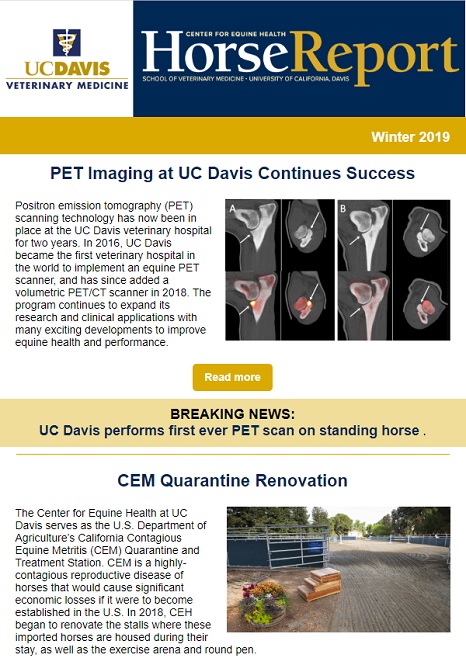 Winter 2019 - Year in Review
PET Imaging at UC Davis Continues Success
CEM Quarantine Renovation
CEH Horse of the Month
Paying It Forward Fund
Teaching Horse Endowment
and More.....
Subscribe to the CEH Horse Report
If you currently receive a printed version of the CEH Horse Report and would like to switch to the online version, please e-mail cehadmin@ucdavis.edu with your name and e-mail address.