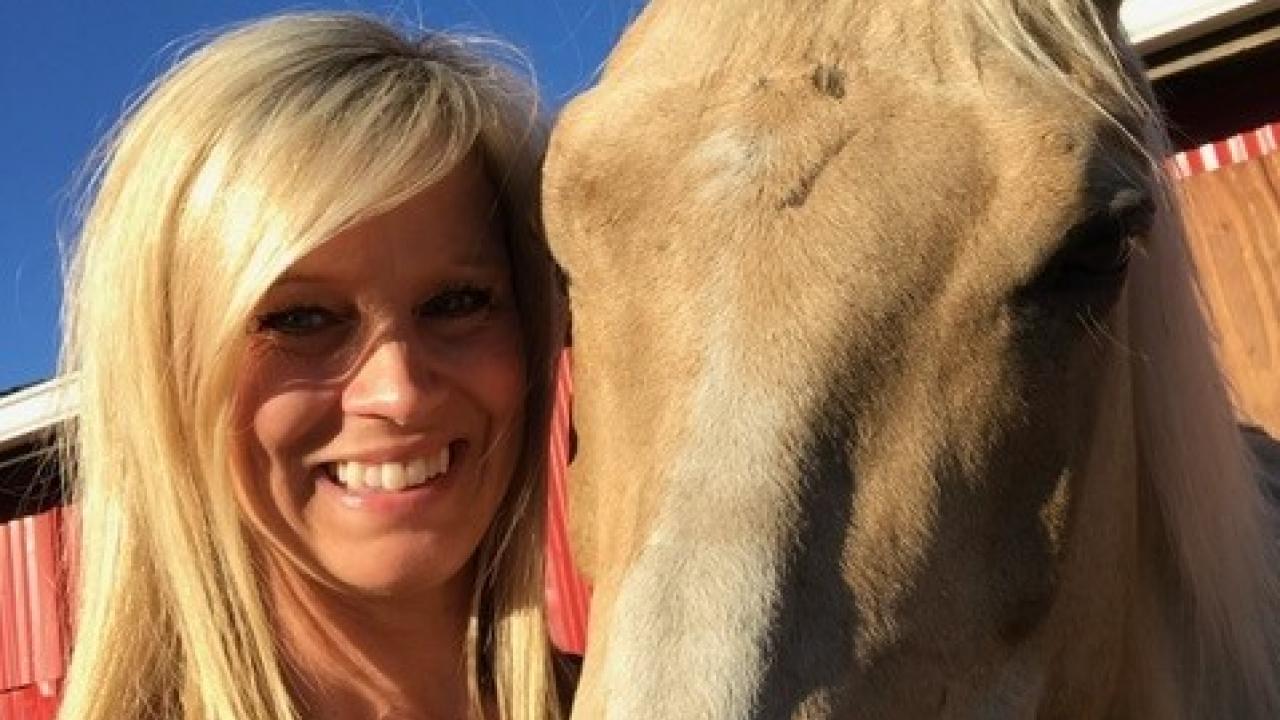 Goldie Kaszub fondly recalls how her niece, Christa Roedel, has had a passion for horses ever since she was a young girl. Growing up, she always wanted a horse of her own. Realizing her dream, Roedel acquired Buddy, an 8-year-old Missouri fox trotter gelding, and considers him as her best friend, confidante and teacher. To honor this special bond, Kaszub established an endowment to provide support for the teaching herd at the Center for Equine Health (CEH).
"You see a horse with your eyes, but you feel a horse with your soul," Roedel said, expressing one of her favorite quotes. She is especially drawn to horses for their beauty and intelligence and describes them as gentle, yet strong, incredible athletes. For Roedel, simply being around Buddy brings her calm and a sense of fulfillment.
Compassion for animals is a core value that runs deeply in the family.
"I have a love of all animals and an appreciation for educational causes," Kaszub said. "It is especially important to me to support animals."
Although residing across the country in Virginia, Kaszub learned about UC Davis and its excellence through a close friend with ties to the school. Especially impressed with the CEH's impact on the health and well-being of horses, Kaszub became inspired to make a gift.
The center is home to 180 horses that comprise the teaching herd, the only one of its kind and size in the country. These donated horses have retired from a variety of jobs—cutting, dressage, jumping, racing, reining and pleasure riding. While receiving excellent veterinary care, these horses live out the rest of their lives comfortably and play an integral role in the center's mission of advancing equine health.
The CEH helps to train future veterinarians, academic clinicians and researchers by providing invaluable hands-on learning opportunities to undergraduate veterinary students, residents and graduate students. Through research and educational efforts, faculty continually strive to provide new information and improved diagnostic and therapeutic options to benefit horses.
"Thanks to the generosity of Ms. Kaszub, her gift launched the Teaching Herd Endowment, helping to maintain the teaching herd for generations to come," said Dr. Carrie Finno, CEH director. "The welfare of all horses depends on continuous advancement in equine health."
Through this gift, Kaszub hopes to inspire others to support the teaching herd. She believes that the herd is essential in helping horses live long and healthy lives, so that others like her niece can continue to enjoy their beloved equine companions.
For information about making a gift to support the CEH teaching herd, please contact the Office of Development at 530-752-7024.