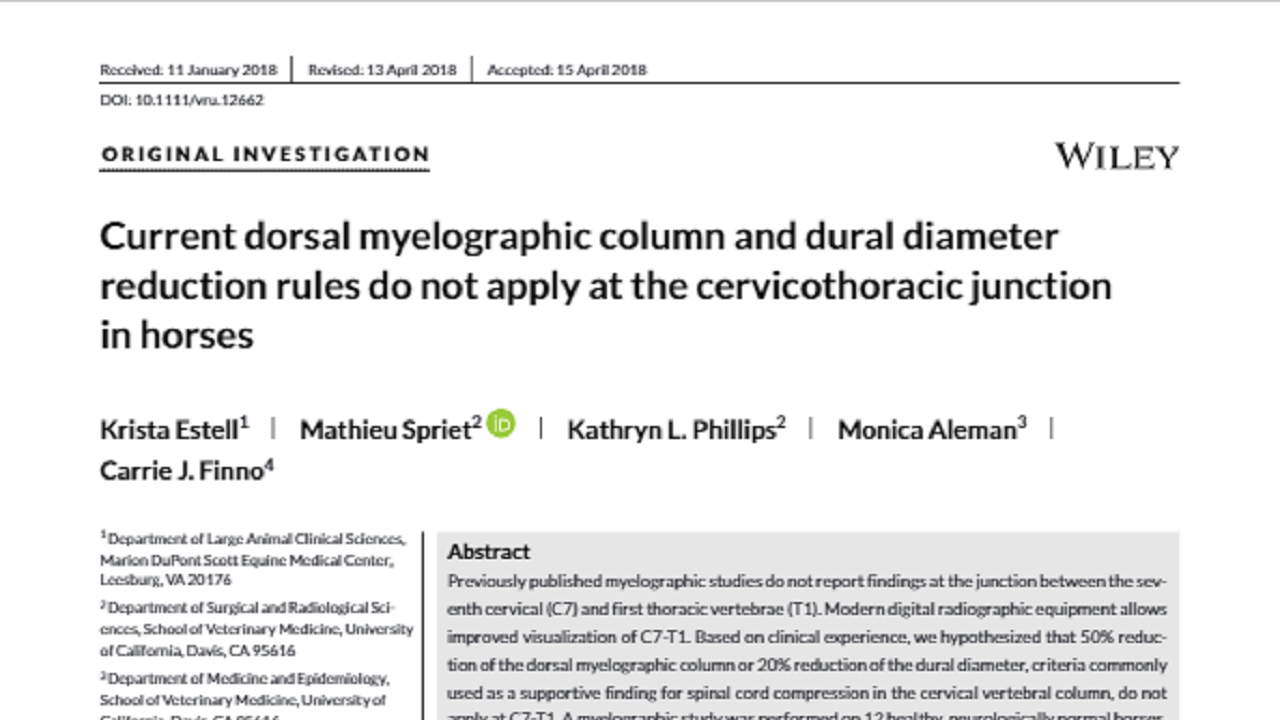 The Center for Equine Health has access to the largest group of equine specialists and researchers available anywhere. Our expertise spans the breadth of clinical and basic science disciplines that apply to the horse. We help to provide support for research projects that contribute to veterinary and scientific advances in equine health and performance and work to make the resulting information available to members of the equine and veterinary communities. Two influential CEH-supported studies that were published in 2018 include research to improve diagnostic imaging reference ranges for neurologic disease and a resident project that investigated the prevalence of respiratory pathogens in horses imported to the United States.
Estell K, Spriet M, Phillips KL, Aleman M, Finno CJ.
Vet Radiol Ultrasound. 2018 Nov;59(6):662-666. doi: 10.1111/vru.12662. Epub 2018 Jul 11.
In horses with neurologic disease that may be due to compression of the cervical spine (i.e. "Wobblers" disease), a diagnostic imaging test (myelogram) is often indicated. Under general anesthesia, a contrast dye is injected into the area around the spinal cord and radiographs (X-rays) are taken to determine if there are any areas of compression in the horse's neck. Although this is a powerful diagnostic tool, the normal reference ranges for myelogram interpretation were developed in a single breed, the Thoroughbred, and did not include the last few cervical vertebrae (i.e. C6-C7 and C7-T1) as these images were not easily obtained. Now, with the availability of digital radiography, these regions can be imaged, thereby improving diagnostic accuracy. Additionally, as many Warmblood horses are often evaluated for neurologic disease with a myelogram, reference ranges in more breeds were needed. This study defined new criteria for normal reference ranges at C6-C7 and C7-T1 in Warmblood and Thoroughbred horses, thereby preventing "false positive" interpretation at these anatomic regions.
Smith FL, Watson JL, Spier SJ, Kilcoyne I, Mapes S, Sonder C, Pusterla N.
J Vet Intern Med. 2018 Jul;32(4):1436-1441. doi: 10.1111/jvim.15145. Epub 2018 May 15.
Imported horses are likely to be stressed during transport and may be at a higher risk of exposure to infectious respiratory pathogens due to comingling with other horses at sales and shipping barns, during transport and at quarantine facilities. These horses may therefore represent a risk for spreading infectious respiratory pathogens into equine populations in the United States.
This study assessed the prevalence of respiratory disease in 166 horses entering the Contagious Equine Metritis quarantine facility at the UC Davis Center for Equine Health between October 2014 and June 2016.
The results showed that approximately 3.6% of horses were shedding either equine herpes virus 1 (EHV-1) or EHV-4, which could have serious consequences if introduced into a large barn. Equine influenza positive horses were not identified; however, many samples for influenza testing failed quality control. EHV-2 and -5 were commonly shed in imported horses. At this time, the significance of EHV-2 and -5 in the development of respiratory disease remains poorly understood.
While equine influenza was not identified in any sample, the two important implications from this study are that sampling technique and environmental conditions can affect the quality of the sample and, due to the high failure rate, it is possible to miss positive animals.