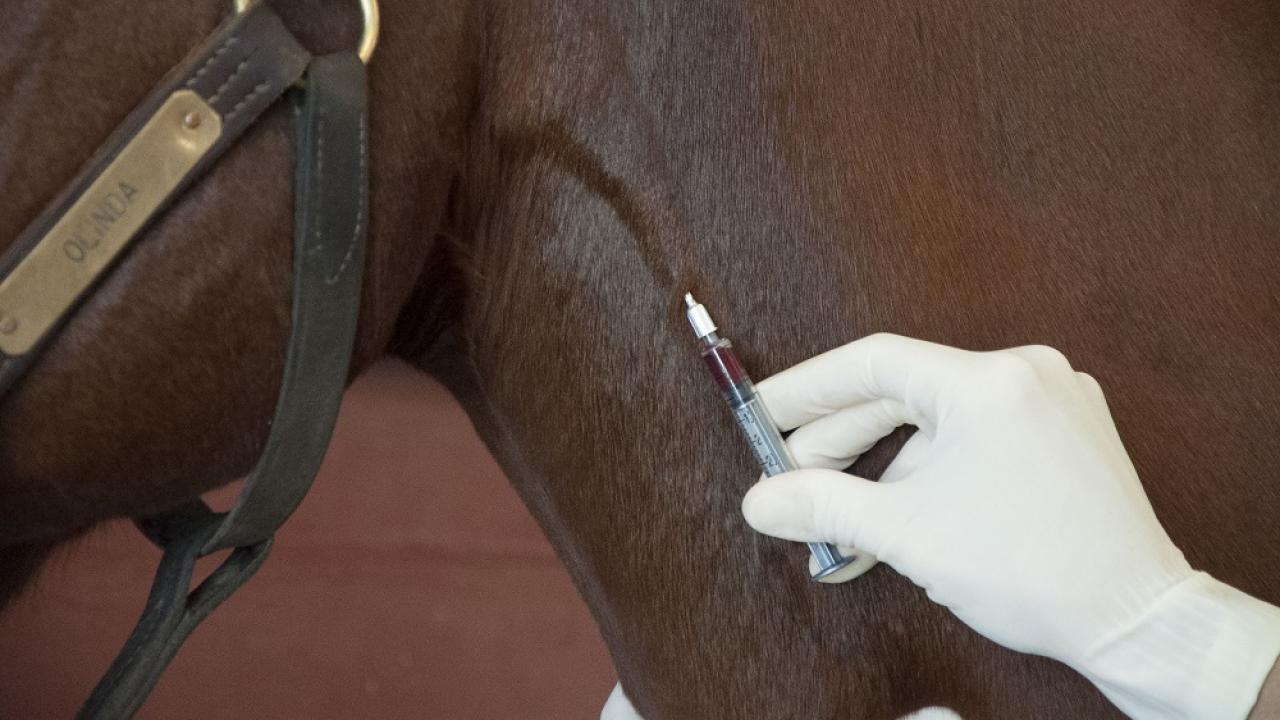 A study is underway at the Center for Equine Health to evaluate a promising new pain reliever in horses with chronic lameness due to joint pain. This effort, led by Dr. Robert Brosnan, a professor in the School of Veterinary Medicine's Department of Surgical and Radiological Sciences, is supported by a grant from the Equine Tribute and Memorial Fund through the Center for Equine Health. Dr. Brosnan and his team in the Department of Veterinary Anesthesiology and the JD Wheat Veterinary Orthopedic Research Laboratory are collaborating to evaluate a new painkiller that was discovered at the UC Davis School of Veterinary Medicine and compare its effectiveness with a standard treatment and a placebo in horses with chronic lameness.
The researchers predict that the pain-relieving effects of this new drug will be as good as, or better than, the commonly used painkiller morphine. Ultimately, this will allow for new treatments in horses that will reduce adverse medical effects and side effects such as decreased gut motility, weight loss, decreased wound healing strength, and support limb lameness that are often associated with current methods for treating chronic lameness. Improved options for pain management would provide important benefits for equine management and welfare.
"If effective in horses, this novel analgesic would represent an entirely new class of drugs that may be used to provide pain relief in horses," says Dr. Brosnan. "In addition, this drug can be measured in the breath of horses, meaning that concentrations could be monitored and adjusted in individual horses in real time to maintain effective drug levels."
The Equine Tribute and Memorial Fund Program offers a heartfelt way to honor horses and the people who care for them. Gifts to this fund can be made in recognition of horses, people and events—such as celebrating the birth of a new foal, memorializing a beloved patient, honoring a dedicated veterinarian or remembering a family member or friend.
Gifts also make a significant impact in improving the lives of horses by supporting studies that advance equine health, such as this promising new pain reliever study. If you are looking for a meaningful way to honor a special horse or person, please consider contributing to the Equine Tribute and Memorial Fund.