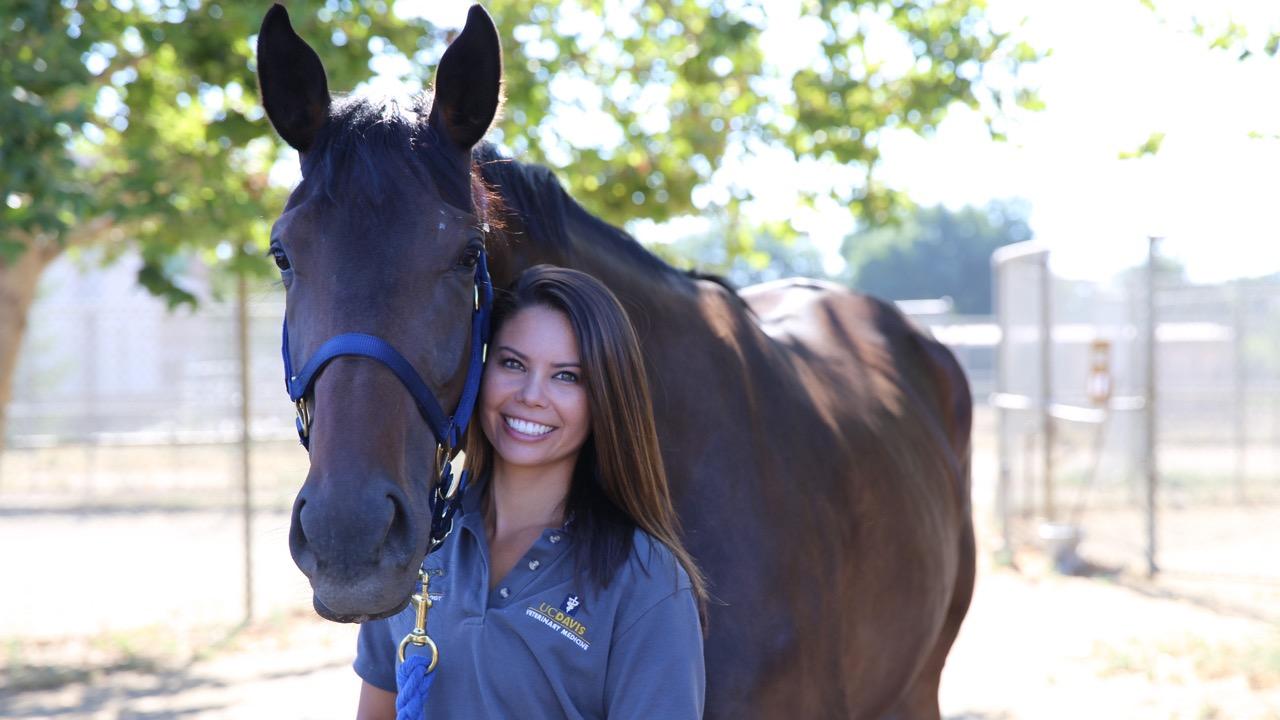 One of the missions of the Kenneth L. Maddy Laboratory at UC Davis is to provide graduate student training in the study of drug metabolism in racehorses, including Ph.D. candidate Briana Hamamoto. She's a familiar face to many at the veterinary school, having worked at the Center for Equine Health (CEH) for several years, conducted laminitis research with former Assistant Professor Alonso Guedes, and served as a technician in the hospital's ICU. She joins the incoming Class of 2022 this August to pursue a DVM on the heels of nearly completing her doctoral research in pharmacology/toxicology under the mentorship of Dr. Heather Knych.
Attending veterinary school has been a goal of Hamamoto's ever since she can remember. She grew up in rural Atwater, California, and was heavily involved in Future Farmers of America. She completed a bachelor's degree in Animal Science from UC Davis in 2014 and planned to go immediately to veterinary school.
But her path wasn't to be that direct, which is a blessing in hindsight. She wasn't admitted immediately to UC Davis, her first choice, but her persistence paid off and she was able to pursue further opportunities through her job at the CEH. Working as an after-hours technician had given her a lot of responsibilities and experience, but she wanted more research opportunities. She was partnered with Dr. Guedes to work on his project looking at sEH (soluble epoxide hydrolases) inhibitors in treating painful laminitis in horses.
"That was a great mentor relationship," Hamamoto said. "He saw my research abilities before I did."
Guedes ended up bringing her on full-time as his lab manager and introduced her to Knych, associate professor of clinical veterinary pharmacology, who is now her Ph.D. advisor. Hamamoto's dissertation is focused on how pain management could be improved in horses. Current pain management centers on nonsteroidal anti-inflammatory drugs and sedation. Under Knych's leadership, she's exploring opioid-based methods of controlling pain, specifically using morphine. At the moment, she is conducting basic pharmacokinetic and in vitro studies, taking it back to square one and building from there.
"We need to better understand how long morphine provides pain relief in the horse," Hamamoto said. "This is an area that could use a lot of improvement and we need to increase the types of pain relievers that can be used safely for the best effect."
It's no surprise that Hamamoto plans to specialize in large animal medicine in veterinary school and continue conducting research. She credits her mentors through the years with helping her achieve her dreams of becoming a veterinarian—and now a researcher.
"I got really lucky along the way," Hamamoto said. "My mentors are the reason why I am where I am today."