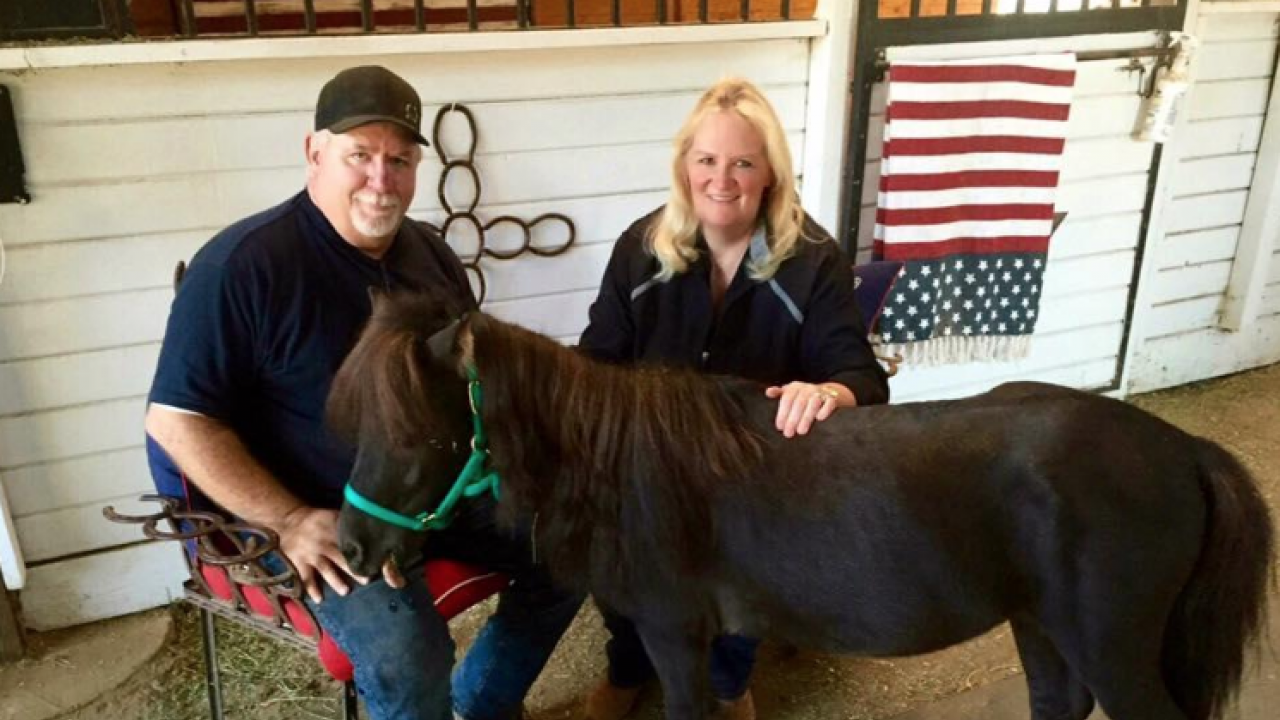 Special needs horses find a loving and forever home at Tracy Acres Equine Sanctuary, located in Vacaville, California. Dean and Denise Tracy, who fulfilled their dreams by establishing their sanctuary, rescue horses that often have come from a life of abuse and neglect. Most have arrived in poor condition—some blind, others starved with ribs protruding, while still others with complex medical conditions.
"Thankfully, we're able to help these horses because of the expert care provided by the veterinary team at the UC Davis School of Veterinary Medicine," Denise said. "These once discarded horses have healed and are so grateful to be greeted with a kiss and a handful of fresh hay. They now feel safe and have learned to trust again."
The Tracys believe in extending acts of kindness to change the lives of others. They contribute regularly to the Center for Equine Health's Equine Pay It Forward Fund by generously giving 10 percent of every donation their sanctuary receives.
The Equine "Pay It Forward" Fund provides support for sick or injured horses who are seen at the UC Davis veterinary hospital and have a positive prognosis, but whose owners do not have the financial means to afford treatment.
With their horses Shrek and Cupid, the Tracys have seen how proper medical treatment can heal a sick horse and transform its life.
In 2016, they brought Shrek, their mini-horse, to the veterinary hospital to have a large growth on his jaw examined. It kept him from eating and he was miserable. Fortunately, it was not cancerous and the veterinary team was able to remove part of Shrek's lower mandible.
During his stay, the Tracys got to know the veterinary students well and noticed they were tired and hungry by day's end, often without a chance to eat dinner. So, they started bringing dinner to them the last three days of Shrek's stay—and they continue to do so every Thursday evening. 
"These students feel like an extension of our family," Dean said. "It's the least we can do and we love doing it!"
Shrek is now thriving and enjoys his food. His tongue hangs out due to a missing portion of his lower jaw, but that doesn't dampen his spirits. He is known as Mr. Personality and works as a therapy horse.
Last June, Cupid, an Appaloosa colt, came to Tracy Acres with an unidentified mass on his chest and an unpredictable future. A rare condition, it was first speculated that he was born with two hearts. So, he aptly received the name, Cupid.
The Tracys brought Cupid to the veterinary hospital, where Dr. Scott Katzman and his team compassionately cared for him and surgically removed the mass. Fortunately, it turned out to be a solid, loosely attached soft tissue mass, not associated with any major vessels or vital structures. It was also great news that results showed no evidence of cancer.
Cupid came through surgery successfully and was well on the road to recovery. But after a week, he found his sutures getting itchy and managed to pull out a few with his teeth. To protect the area, the Tracys got Cupid his own custom t-shirts, which he didn't mind wearing.
That was a sign of good things to come. Cupid has become a therapy horse, who now proudly dons custom-made vests when he makes his visits. His new career started within a month after his surgery, and he has already brought smiles to more than 100 children.
"Cupid is the absolute perfect therapy horse and I just cannot even begin to imagine how many lives he will touch," Denise said. "He has taught us lessons that we may never have learned otherwise about unconditional love. We have gained so much wisdom from all of our horses."
If you would like to help make a difference in the life of a sick or injured horse, please consider contributing to the Equine Pay It Forward Fund.