Novel Surgery Successful For Former Event Horse
When Goose, a 20-year-old Thoroughbred gelding known for his goofy personality, came into the UC Davis veterinary hospital for fever and inappetence, his prognosis was grave. He was diagnosed with a stone (ureterolith) in his urinary tract that was obstructing his ureter and causing a kidney infection. Initial attempts to break up the stone using laser lithotripsy were ultimately unsuccessful.
Clinicians with the Equine Surgery and Lameness Service were aware of an alternative method for stone removal through a flank laparotomy, but it had only been reported in the veterinary literature in two horses. Dr. Cheryl McCullough, a veterinary pathologist and Goose's owner of 13 years, was willing to give it a chance.
After Goose was placed under standing sedation, Dr. Scott Katzman and his surgical team made an incision in his right flank and located the ureter with digital palpation. A laparoscope was introduced into the incision, and a hand assisted laparoscopic approach was initiated. Once a portion of the ureter was manipulated to the flank incision, a small incision was made in the ureter and a flexible endoscope was introduced to observe the ureterolith. A shock wave probe was inserted through the same incision and was used to fragment the ureterolith into small pieces, which were then passed into the bladder and subsequently removed.
The surgery was deemed a success, but Goose experienced post-surgery complications including a bacterial infection. Consequently, he spent 27 days at the UC Davis veterinary hospital under the watchful eye of his surgical team and hospital staff. Following recovery, Goose was discharged from the hospital and received further care at the UC Davis Center for Equine Health (CEH) before returning home.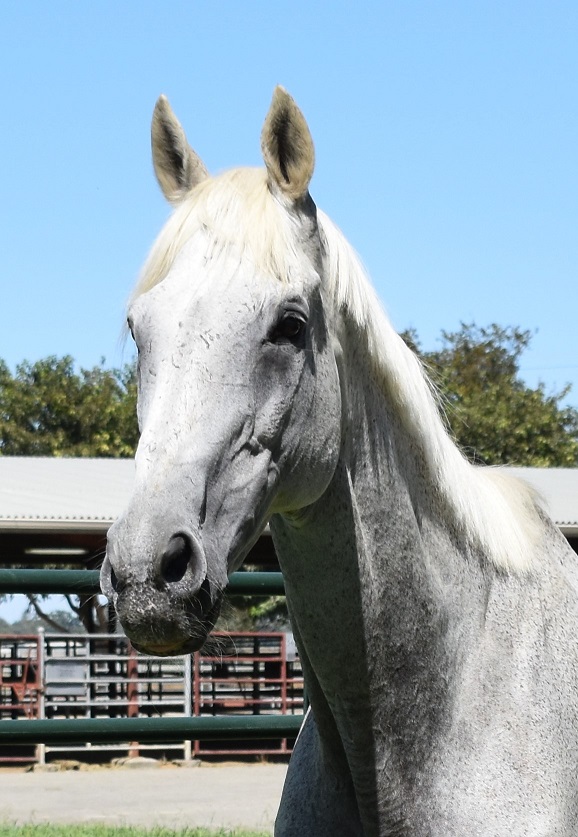 Goose's case highlights the collaborative efforts of multiple services within the UC Davis veterinary hospital. Beyond the specialists in the Equine Surgery and Lameness Service, board-certified clinicians in multiple other services contributed to his care, including the Equine Internal Medicine Service, the Anesthesia/Critical Patient Care Service, and even the Small Animal Soft Tissue Surgery Service. Few veterinary hospitals in California have specialists in such diverse disciplines, giving UC Davis a unique ability to care for Goose. It also led to the development of new treatment methods and techniques that can be used to help future patients.
Goose's case was partially supported by the Legacy Fund, which is administered by the Center for Equine Health. The Equine Enduring Legacy Fund supports the administration of new treatments in horses experiencing unique, high-risk, possibly life threatening conditions, for which successful treatment is considered marginal or uncertain, and from which substantial veterinary knowledge and significant teaching opportunities may be gained.
"Without exception, I felt that Goose's entire health care team (doctors, technicians, students and CEH staff) were all personally invested in achieving a successful outcome for him," said Dr. McCullough. "I believe that the Legacy Fund is instrumental in fostering this forward thinking attitude and the accompanying excellence in equine care, expanding the horizon for what is not only possible, but also feasible in the worlds of equine medicine and surgery."
It has been a long and challenging road for Dr. McCullough and this former racehorse and event horse, but it looks promising that the only thing Goose may suffer from in the future is an excess of personality!