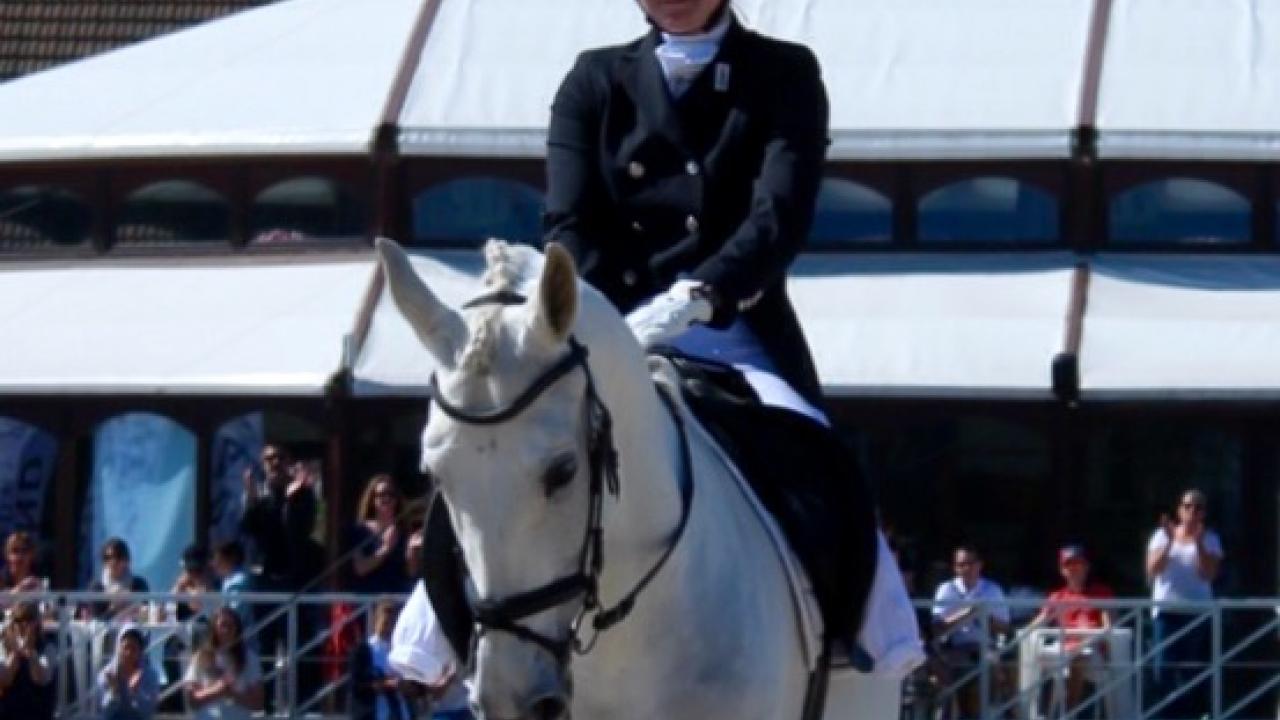 When Delegada X (DeeDee) arrived at the Center for Equine Health in December from Belgium on her way to her new home in California, she appeared to be an ordinary white horse staying a couple weeks in the quarantine facility. In truth, DeeDee is something of a miracle worker, credited with saving the life of her young owner, Beatrice (Bea) de Lavalette. This is their story, told with the help of Bea's mom, Elizabeth.
On March 22, 2016, Bea, then 17, was waiting in line at the Brussels Airport in Belgium for a flight to Florida to visit her family when the first of numerous terrorist bombs exploded approximately 10 feet away. She was thrown several yards and suffered flash burns on more than 35 percent of her body, along with critical internal injuries. Her lower legs were shattered.
"For the first three or four weeks after coming out of the coma, I cried nonstop," said Bea, who had been attending school in Belgium. "I felt like my life was over. What was I going to do now?"
After nearly four months of intensive care, Bea moved to a rehab facility. The constraints of being cooped up and the extent of her injuries began to wear her down. She needed something to lift her spirits. That 'something' was DeeDee.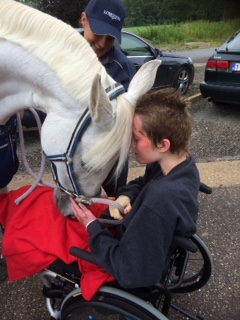 Bea's riding coach, Julie Dossin, and her friend and groom, Claire Feaux, trucked DeeDee to the rehab facility. Even Bea's dog hadn't recognized her initially, but DeeDee did immediately - despite the wheelchair, the burns, and the fact that Bea's long hair had been shaved off. After the first moments of hugs and kisses, DeeDee began poking at Bea's legs, trying to figure out what happened.
The following week, seeing the effect DeeDee's visit had made on Bea, the occupational therapist arranged to take Bea to the stables. With the help of the grooms, Bea was pushed up onto the saddle and kept from falling by Claire. The dark depression lifted; Bea could get back on her horse and try to ride.
"DeeDee helped me get through all of this," Bea said. "I couldn't have done it without her. She's one of my best friends; I trust her completely."
Over the next eight months as Bea continued her recuperation in Belgium, she rode whenever possible. At first, people had to balance her to keep her from falling. After months lying flat in bed, Bea had no muscle tone. Bit by bit, she regained her back, abdominal, and arm muscles enough to sit on her own. She was only walking with DeeDee at first, but the strength she was developing was obvious. Muscle memory accounted for a lot; Bea had been riding ponies and horses since she was three years old.
In April 2017, Bea received an invitation to compete in her first para equestrian competition at the Haras de Jardy in France. Elizabeth trucked DeeDee to Paris from Belgium and Bea competed with her beloved mare.
"DeeDee isn't just lovely, she's smart and highly intuitive," Elizabeth said. "She totally protects Bea to ensure that she doesn't fall."
In September, Bea came to the U.S. to continue her physical rehabilitation at the Naval Medical Center in San Diego where they specialize in helping individuals recover from traumatic injuries and the loss of limbs. Bea's parents made arrangements to fly DeeDee to the U.S. in December to continue to help Bea heal and get stronger.
Before DeeDee could move into a training center in Del Mar, she first had to be quarantined for two weeks per USDA regulations for contagious equine metritis (CEM) testing. (All mares and stallions arriving from CEM positive countries must undergo this screening.) Elizabeth didn't want to truck DeeDee any farther from LAX than necessary. Of greater concern, the horse had a growth on her left temple that was making it increasingly difficult to place a bridle on her head. Worse, it had recently been causing her face to swell. Taking DeeDee to the CEH at UC Davis meant she could be treated by a top-notch veterinary team while in quarantine.
Dr. Esther Millares-Ramirez took control. She did an x-ray the first week, followed by a CT scan. There was an obvious mass, so as soon as DeeDee cleared quarantine, Millares-Ramirez did a biopsy. Result: Melanoma. After discussions with Bea and Elizabeth, the decision was made to leave DeeDee at UC Davis through the holidays.
Once the diagnosis was clear, Dr. Larry Galuppo – chief of the veterinary hospital's Lameness and Surgery Service – became involved. A second CT scan showed that the mass was completely encapsulated and had not invaded nerves, veins or other tissue. DeeDee was taken directly from scanner to surgery and Dr. Galuppo removed the tumor. She spent a few days recovering and was then transported to southern California to rejoin Bea where they have resumed working together.
"I'm so grateful we chose to bring DeeDee to UC Davis," Elizabeth said. "I couldn't stay with her the whole time, but we knew she was in excellent hands. She's given us so much that we needed to give her the best care possible."
That's one of the benefits of having a horse at the CEH, explained Dr. Carrie Finno, CEH director.
"We're a one-stop shop," Finno said. "We can facilitate any necessary medical care with our Large Animal Clinic at the veterinary hospital, set up farrier appointments, keep the horses fit with the help of an experienced rider, provide 24-hour care from highly trained technicians, and also provide lay-up services."
Social media helped spread the news about Bea and DeeDee and word of this amazing duo made it to the USA Para equestrian team. Bea and DeeDee have already met with the new high performance trainer, Michel Assouline. Bea is dedicated to winning a medal as a para equestrian at the 2020 Summer Paralympics in Tokyo.
"We've certainly had our difficult moments throughout this ordeal, but Bea's family and friends created an incredible circle of strength and courage around her," Elizabeth said. "DeeDee has been so important in Bea's healing and recuperation process. Ensuring DeeDee's long-term health at UC Davis was of utmost importance to all of us."