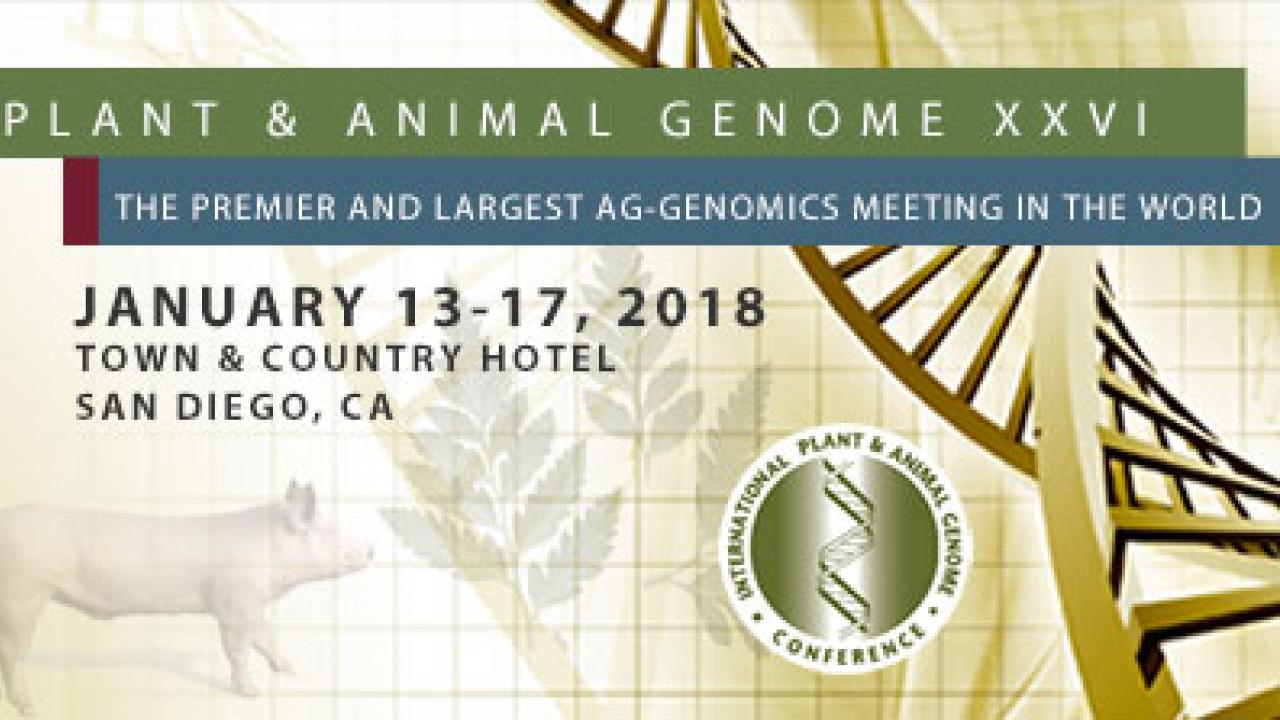 By Ernie Bailey with others
Contact: Ernie Bailey, ebailey@uky.edu
San Diego. (Feb. 23, 2018) – Scientists met at the annual International Plant and Animal Genome Conference in San Diego on Jan. 12-13, 2018, to discuss research and share new discoveries using the horse genome sequence.  The United States Department of Agriculture-National Research Sponsored Project 8 (USDA-NRSP8) sponsored the meeting.
A highlight of the workshop was the announcement that the third version of the reference assembly of the horse genome, EquCab3.0, is now available online through the National Center for Biotechnology Information (NCBI). This assembly is the complete genome sequence for the reference horse Twilight, a Thoroughbred mare pictured below. The team creating the new assembly was led by Drs. Ted Kalbfleisch (University of Louisville), Jamie MacLeod (University of Kentucky) and Ludovic Orlando (University of Copenhagen) and was made possible through funding provided by a grant from the Morris Animal Foundation, supplemented with additional financial support from the individual laboratories and the USDA-NRSP8 program. The new assembly used cutting-edge technologies to improve the accuracy of this vital research resource. EquCab3.0 will be a critical resource for equine geneticists and equine scientists in general working to identify the causes and related biology of inherited traits in the horse.
Participants also discussed progress towards the development of new resources for investigating mechanisms to understand how the genome functions in individual tissues of the horse. The work was initiated with a grant from the Grayson Jockey Club Research Foundation and supplemented by the USDA-NRSP8 program. This effort is part of an international collaboration among the agricultural animal community known as the Functional Annotation of Animal Genomes.
The Grayson Jockey Club project involves many workshop participants and is led by Drs. Carrie Finno and Rebecca Bellone (University of California-Davis) and Dr. Jessica Petersen (University of Nebraska). An improved understanding of genome function will enable scientists to study complex traits as well as changes occurring as a result of disease or management (e.g. diet). This project will be a focus of a Dorothy Russell Havemeyer Foundation workshop from September 12-15, 2018, in Pavia, Italy. In addition to combining data from each of these efforts to annotate the new genome assembly, scientists will discuss collaborative activities and report discoveries made in the last year using horse genomic tools.
The Horse Genome Workshop is an international collaboration among scientist, designed to foster cooperation to develop new genomic tools and information to investigate significant aspects of equine biology and health.  More information about the workshop, its participants, and meeting activities are available at https://horsegenomeworkshop.com.