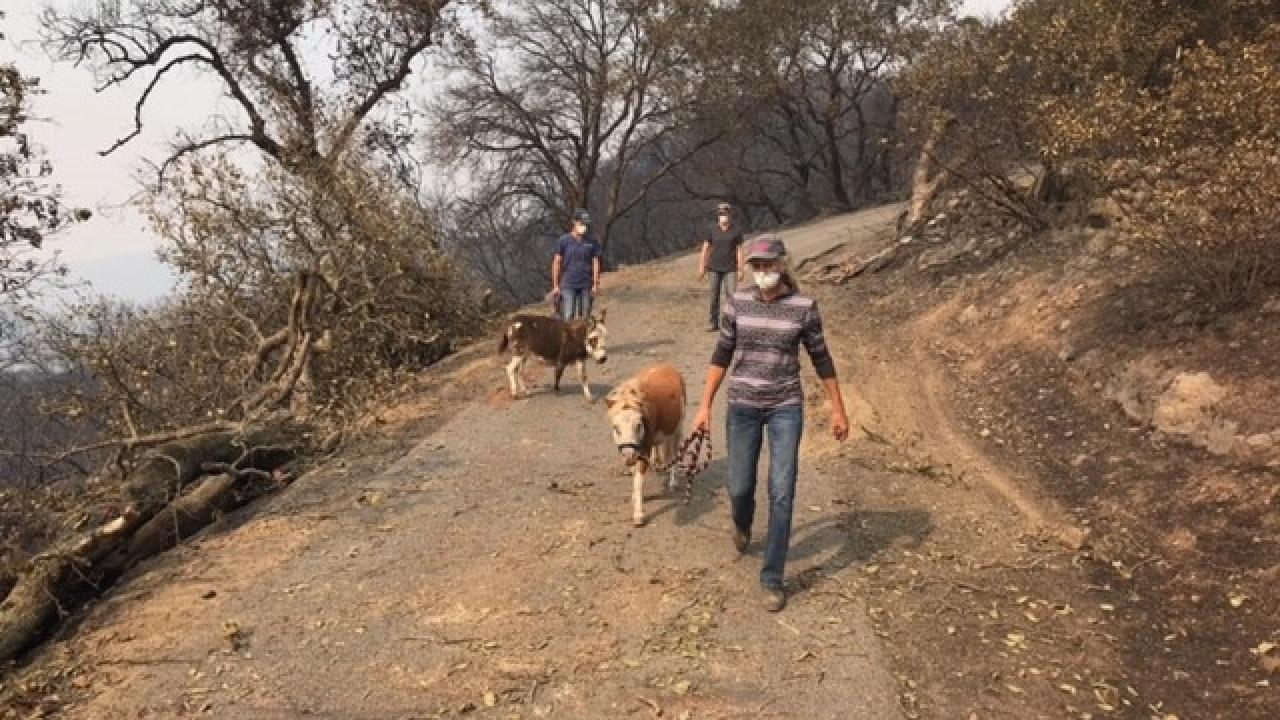 Last year brought devastating wildfires to both Northern and Southern California. Thousands of horses and other animals were affected throughout the state, and UC Davis was there to assist on many levels. Veterinarians, staff, and students spent countless hours in fire zones and on-campus rescuing and caring for victims of burns and smoke inhalation.  
Wildfire First Responders
CEH Director of Community Outreach Dr. Claudia Sonder escorts a mini horse to safety during the Napa area fires of 2017.
In October, the school coordinated with the California Veterinary Medical Association to respond to requests for assistance in the Napa area fires. The Veterinary Emergency Response Team (VERT) began preparations to assist first responders in the field performing search and rescue missions for horses and livestock that had to be turned loose in the haste to escape the fires.
For nearly two weeks, members of VERT and the Center for Equine Health (CEH) searched throughout Napa, Sonoma and Solano Counties. In total, 29 veterinarians and students from those two groups assisted displaced animals.
Also assisting in the efforts were the veterinary hospital's equine and livestock services, who responded to several requests for help from county officials. The Equine Field Service deployed teams to the Sonoma County Fairgrounds to provide veterinary care to evacuated animals. For a week, 16 veterinarians and students from the service helped care for scores of evacuated animals, in conjunction with many local veterinarians and members of the California Veterinary Medical Reserve Corps. Ultimately, upwards of 500 horses were evacuated to the fairgrounds. That week would also see 15 members of the Livestock Herd Health Service and the Livestock Medicine Service join the efforts at the Sonoma and Solano County Fairgrounds and the Napa High School Vintage Farm evacuation centers.
On campus, the veterinary hospital received 77 animals over the next three weeks, 14 of which were horses suffering from burns, smoke inhalation, and equine influenza. The influenza virus was being spread throughout the Sonoma County Fairgrounds evacuation center. Once it was discovered by the UC Davis equine specialists, the Equine Field Service assisted at the fairgrounds in establishing biosecurity measures.
Understanding Smoke Inhalation
UC Davis Professor Kent Pinkerton has spent the past 30 years studying air pollution and how it affects respiratory, cardiovascular and neurologic health of humans and animals. With an increase in the number and intensity of these fires over the past few years, the need for better understanding the compounds found in wildfire smoke continues to be urgent for several reasons, Pinkerton says, especially as it connects to human and animal health. 
He points to the increasing amount of chemicals in the air. For one, the amount of aerial fire retardant used in California increased from approximately 3 million gallons in 2012 to about 7 million in 2015. While these chemicals are necessary to suppress wildfire and keep it from reaching heavily populated urban areas, the health risks of these chemical compounds remain poorly studied. 
In the immediate aftermath of the Napa area fires, Pinkerton along with UC Davis equine specialists issued guidelines for horses exposed to wildfire smoke. Following the tragedy near the Del Mar racetrack during the Southern California fires, Dr. Rick Arthur, equine medical director at the UC Davis Kenneth L. Maddy Equine Analytical Chemistry Laboratory and at the California Horse Racing Board (CHRB), issued an advisory on behalf of the CHRB regarding those athletes returning to competition.
Emergency Preparedness
CEH continues to encourage horse owners to be prepared for fires and other emergency situations. The CEH website has an entire section devoted to disaster preparedness with many resources including keeping horses safe in floods, fires, and other natural disasters. 
Over the past year, CEH hosted Jim Green, co-founder and director of the British Animal Rescue and Trauma Care Association, to develop mechanisms to train veterinarians and rescue personnel for everyday incidents and to share best practices in technical rescue. Green coordinated with the university as well as local and state emergency response stakeholders to better prepare first responders at emergency scenes involving animals. CEH will continue to implement Green's practices to better serve animal owners throughout the state.
Importance of Microchipping
Animals can easily become separated from their homes during a fire, especially horses which are difficult to round up and trailer during a time crunch. One of the best ways of reuniting with a separated horse is the implementation of a microchip. This should be done by a veterinarian, and the paperwork should be registered immediately.  
If a horse is not microchipped and there is no time to properly evacuate it, quick methods of identification include an ID tag attached to its halter or a plastic neckband engraved or marked with information. At the time of evacuation, consider additional temporary identification such as spray painting contact information on the horse, or writing it on the hoof with a permanent marker. 
All horse owners should have several full-frame and close-up photographs with detailed descriptions of the horse. Record breed, color, size, markings, scars, cowlicks or whorls, and other significant features. Keep copies in a sealed plastic bag and store it in a safe place. Send a copy to a friend or family member so that the information is preserved in case of fire, or keep a copy in digital form on a cloud server for access from a phone or other mobile device.
This and other emergency information can be found on a quick reference disaster plan poster that horse owners can print and hang in their barns.