27th Annual UC Davis Horse Barn Production Sale
The UC Davis Horse Barn Annual Production Sale: The Proof is in the Progeny took place on June 22, 2019 at the Ani
mal Science Horse Barn. An event steeped in history and tradition, this year marked the 27th year of the sale, and the second year that the Center for Equine Health (CEH) partnered with the Horse Barn to include CEH-bred yearlings in the sale catalog.
Two CEH yearlings became part of the Horse Barn Foal Manager Internship program in early 2019. Undergraduate students worked with the foals regularly, teaching them ground manners, how to longe and how to load in a horse trailer. This collaboration between the CEH and the Horse Barn offers students a unique hands-on opportunity to work with young horses, and provides training and marketing for CEH yearlings. Proceeds from the sale directly benefit the Horse Barn Teaching Program and the Center for Equine Health teaching herd.
"This partnership between CEH and the Horse Barn really exemplifies all that can come out of an interdepartmental collaboration at the university," said CEH Animal Resource Manager Dr. Tatiana Viau. "Our yearlings allow the Horse Barn Foal Internship to include more students in the program, while at the same time providing invaluable training for the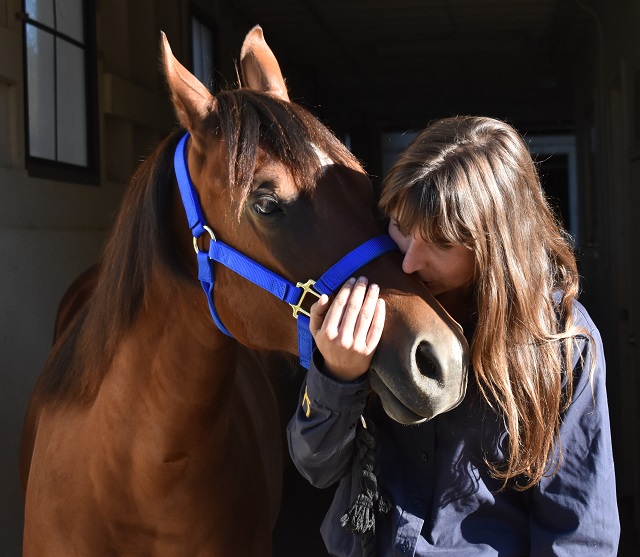 yearlings. The CEH yearlings join the Horse Barn Annual Production sale and find fantastic homes in the community, and proceeds from their sales go right back into funding student learning experiences."
This year's auction featured 10 equines, ranging from a Warmblood weanling colt to yearling mules to a Paint broodmare. The CEH-bred Quarter Horse yearlings that were included in the sale are the last progeny of long-standing CEH stallion Playboy Sailor, who passed away in 2016. The gelding is out of CEH mare Look Whos Pinen, and the filly is out of CEH mare Cinderada Cat. Center for Equine Health staff, including CEH Director Dr. Carrie Finno, were on hand to see these special yearlings find their new homes.
"The 2019 Horse Barn Production Sale was a great success," said Dr. Finno. "We are so proud of how well our two yearlings performed, which is a testament to all of the hard work the students put into handling them. As these are the last two foals by Playboy Sailor, one of our most beloved CEH stallions, it was bittersweet to see them go, but we are excited for them as they enter the next chapter of their lives with their new owners."
Be sure to look for the 2019 CEH foals in the 2020 Production Sale Catalog. Stay up to date on everything equine at CEH and the Horse barn through our websites (Center for Equine Health, Animal Science Horse Barn) and social media pages (Center for Equine Health on Facebook, Animal Science Horse Barn on Facebook)!