The School of Veterinary Medicine is pleased to announce the Thornton S. and Katrina D. Glide Foundation of California as the recipient of the 2017 El Blanco Award. This award recognizes significant contributions that animal owners and other benefactors have made to clinical veterinary medicine by presenting afflicted animals for clinical studies, offering hypotheses and evaluations of therapy, and supporting clinicians at the William R. Pritchard Veterinary Medical Teaching Hospital who pursue novel diagnostic or therapeutic methods.
The T.S. and K.D. Glide Foundation has provided invaluable support for more than 25 years to the education of veterinary students, and for the health and well-being of unwanted horses. Faculty, residents and students have participated in the health care of the 90 horses, donkeys and other animals residing at their rescue facility just outside of Davis. Many of these animals are geriatric patients or were previously neglected such that they require specialized medical care. The foundation's staff has consistently demonstrated patience and compassion while supporting the learning experience of our students and residents.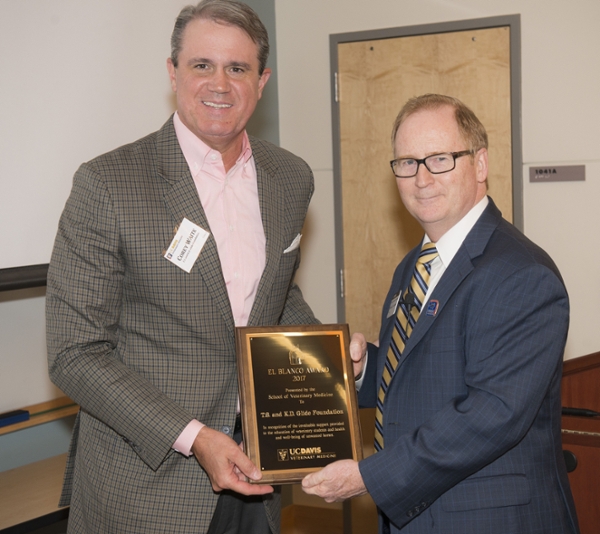 Over the years, the T.S. and K.D. Glide Foundation has also contributed a state-of-the-art digital x-ray machine, funding towards two new ultrasound machines, and recently a lightweight digital radiography unit for the veterinary hospital and Equine Field Service. Their generosity further supports the efforts of our clinicians and students to provide the best care possible to our animal patients, and more rapid diagnosis especially critical in emergency circumstances. More than 700 radiographic studies have been performed in the field over the past seven years, thanks to their foresight and support.
"We are grateful for the partnership with the T.S. and K.D. Glide Foundation," Dean Michael Lairmore said. "The trustees are clearly devoted to animals, advancing veterinary medicine and providing learning opportunities for hundreds of our veterinary students and residents.