British Animal Rescue and Trauma Care Association (BARTA) First Responder Courses
The British Animal Rescue and Trauma Care Association (BARTA) is an internationally regarded stakeholder organization that exists to develop best practice in regard to animal related incidents in collaboration with the British Fire and Rescue Service, British Veterinary Association (BVA), British Equine Veterinary Association (BEVA) and the British Cattle Veterinary Association (BCVA). In the UK, its courses fulfill the rescue preparedness requirement of the Royal College of Veterinary Surgeons, Equine Practice Standards Scheme.
Jim Green, co-founder of BARTA, UK fire officer and animal rescue specialist, is at UC Davis SVM for 12-months, helping guide integration of first responders and veterinarians as they respond to local emergencies and disasters. Jim's passion is equipping veterinarians with the tools they need to have confidence in their role as part of a team and contribute to the safe conclusion of the situation.
UC Davis School of Veterinary Medicine would like to extend a warm welcome to the Northern California Association of Equine Practitioners to join us for an exciting workshop led by Jim, which will give insight into how the rescue services operate and manage incidents involving animals and introduce the fundamental aspects of the veterinary component. In the afternoon, there will be an opportunity to practice the simple manual manipulation techniques, developed for rescue but now being applied to everyday situations faced by large animal vets when dealing with recumbent.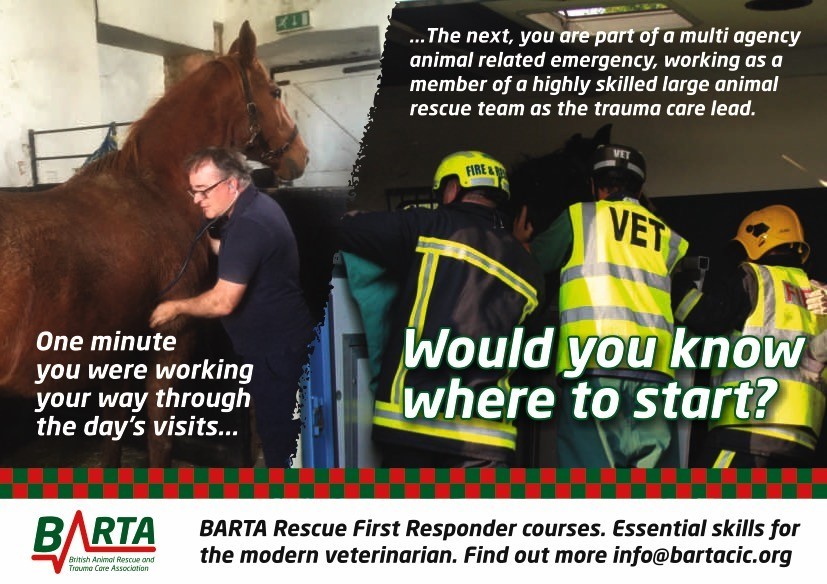 When, Where and How Much?
When
Saturday, August 26
10 a.m.-4 p.m.
Where
Gourley Teaching Facility
1 Garrod Drive
Davis, CA, 95616
Cost
$40 to include light lunch and refreshments
To Register for this Course
Please contact Dr. Claudia Sonder csonder@ucdavis.edu.