Mechanisms of Bone Loss (Osteoporosis) in Horses from Geographic Regions with Soils High in Toxic Silicate (12-04)
Investigator:
Susan Stover, DVM, Ph.D.
Silicate Associated Osteoporosis (also known as Bone Fragility Syndrome) is a devastating disease that causes nonspecific chronic lameness and neck pain, bone deformities and fractures, and death or humane euthanasia of horses that breathe dust from soil containing toxic silicate particles (cristobalite).  Most horses have concurrent lung disease caused by the inhalation of the cristobalite, but the reason for the skeletal disease in horses with this lung disease is unknown. If the mechanism that links the bone disease to the lung disease can be discovered, further research for the treatment and prevention of the bone disease can be pursued.
The study identified extensive bone loss, decrease in bone mineral, and abnormal bone architecture in the ribs of affected horses which explains the markedly weakened bones and the high fracture risk in affected horses. The bone abnormalities were consistent with abnormal function of cells responsible for bone resorption (osteoclasts). Vigorous attempts by bone-forming cells (osteoblasts) to form new bone were also present, but insufficient to compensate for the marked and disorganized bone loss.
Benefits:
Horse owners with horses suffering from SAO incur financial and emotional loss and, in some instances, devaluation of real estate with soil containing toxic substances. Information obtained from this study will add to the body of knowledge surrounding the disease. Determination of the major dysfunction in the disease is expected to guide further studies into disease mechanisms. Understanding these mechanisms could help to identify potential targets for the development of treatment and preventive strategies. This investigation was a first step in understanding the nature of the bone loss in affected horses.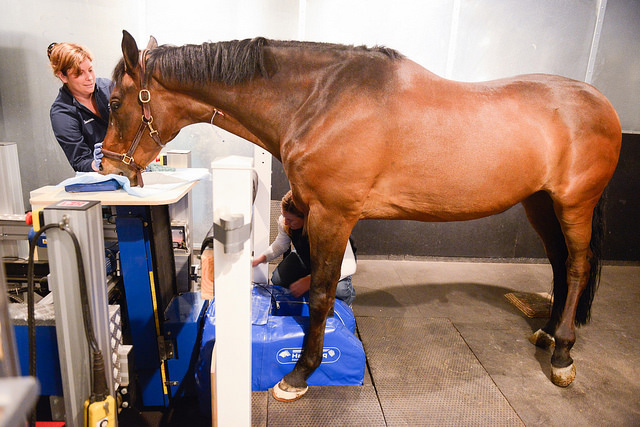 Deciphering Mechanisms of Bone Loss (Osteoporosis) in Horses from Geographic Regions with Soils High in Toxic Silicates (14-07)
Investigator:
Susan Stover, DVM, Ph.D.
Regina Zavodovskaya, M.S., DVM, DACVP
SAO is a devastating disease of horses that breathe dust from soil containing toxic silicates (cristobalite). The disease results in extensive bone loss, painful skeletal deformities, bone fractures, and death or humane euthanasia. Most horses with SAO have a concurrent lung disease called silicosis, which is caused by the inhaled cristobalite. Investigating the link between the lung disease and bone loss could ultimately lead to treatment and prevention strategies for SAO.
Benefits:
This study utilized computer programs to determine the genetic differences between SAO affected and control horses. Differences in the gene profiles were found that affect bone health, but surprisingly the genetic differences highlighted bone formation activation and not bone resorption activation.
SAO in horses is associated with certain regions of California and results in the loss of affected horses, as well as the financial loss and emotional burden for horse owners. The identified genes could be used as a much-needed tool for the detection of affected horses at an early stage of the disease when they can be treated to slow progression of SAO, and as markers for future studies that may link similar diseases in other animals and humans. The discovery of the genes specific to affected horses will guide future research on the path to understanding the mechanism by which the lung disease causes the bone disease. Early diagnosis, targeted therapy for osteoporosis and potential preventive strategies may emerge as a result of the discovery of the SAO associated genes.
New Magnetic Resonance Imaging Approach to Evaluation of Tendons and Ligaments in the Equine Foot (13-05)
Investigators:
Mathieu Spriet, DVM, M.S., DACVR, DECVDI
Brian Murphy, DVM, Ph.D., DACVP
Anthony DeRouen, DVM
Ligament and tendon lesions in the foot are common causes of equine lameness. Magnetic resonance imaging (MRI) has markedly contributed to better recognition and characterization of these lesions, however subtle and early lesions remain a diagnostic challenge. New quantitative MRI techniques have shown promising results in the human Achilles tendon and equine metacarpal tendon disorders. It was hypothesized that this new MRI technique will increase sensitivity for detection of subtle lesions and lesions at an earlier stage of progression while also providing quantitative diagnostic information to more accurately and consistently characterize the nature of the lesions.
Benefits:
The study results showed that abnormal tendons had a different appearance than normal tendons using this new quantitative MRI technique. These tendons were more heterogeneous, with areas displaying increased values of the measured MRI parameter. The increased MRI parameter correlated with an increase glycosaminoglycan content of the tendon, which is known to be related to degenerative changes of the tendon.
This study confirms that changes at the molecular level can be appreciated with this new MRI approach. This technique might provide additional information regarding the underlying mechanisms leading to lesion development and possible earlier intervention in soft tissue injury.
The Effect of Decorin and Biglycan Modulation on Equine Tendon Formation (15-06)
Investigators:
Michael J. Mienaltowski, DVM, Ph.D.
Keith Baar, Ph.D.
Under normal development and growth conditions, tendon formation in the horse involves the creation of a strong, highly organized collagen-rich tissue capable of withstanding great tension during locomotion. Recovery outcomes for horses suffering from a tendon injury are generally incomplete and result in chronic lameness, thus having a huge impact on performance. When compared to healthy conditions, the repair response mounted by the cells of the tendon, and its surrounding tissue, is inferior and would benefit from strategies that bolster the response of these cell populations and strengthen the organization of the tissue to a state closer to that of healthy tendon. One strategy for improving tendon healing is the introduction of exogenous proteins that act to promote and stimulate tendon formation. Molecules like biglycan and decorin play several roles in maintaining tendon structure and function; they inform cells in the tendon as to their fate and they regulate collagen fibril organization.
Benefits:
The study results showed that the addition of purified bovine biglycan and decorin did stimulate tendon formation. These findings are encouraging and support a role for the utilization of exogenous biglycan and decorin as a cost-effective treatment strategy to improve tendon repair. Ongoing studies will provide additional information to aid in the development of strategies to add biglycan and/or decorin to the site of an injured tendon.
Heel Movement and Hoof Wall Deformation with Different Nail Positions applied to the Horse Shoe (15-14)
Investigators:
Susan Stover, DVM, Ph.D.
Vanessa Dahl, M.S. (Ph.D. student)
Racehorses exhibit long toe/low heel conformation which has been associated with increased risk for fetlock injuries and breakdown. Shoeing techniques have an impact on hoof growth which can lead to this long toe/low heel hoof conformation.
We hypothesize that the number and position of nails used to attach the shoe to the hoof affect hoof expansion, hoof wall distortion, and fetlock extension. Furthermore, we hypothesize that nails placed closer to the heels of the hoof will produce effects that could promote the development of the long toe/low heel hoof conformation.
The effect of nail distribution on hoof heel expansion, heel distortion, and fetlock extension was studied in the forelimbs from 9 horses. Each limb was tested a total of 5 times under the following conditions: unshod; shod with 10 nails, 6 nails, and 2 nails; and again unshod for comparison to initial conditions.
Benefits:
It was discovered that nails placed closer to the heels of the hoof decreased the amount of expansion in the heels and quarters of the hoof during limb loading. Additionally, nails placed closer to the heels resulted in hoof wall distortion, leading to the heels moving more dorsally (i.e. forward) than without a shoe. Fetlock angle decreased with nails placed closer to the heels of the hoof. Application of horseshoes is a factor that can be easily managed and could be a viable method to prevent injury in racehorses and performance horses.
Assessment of a New Imaging Technique to Detect Active Lesions in the Horse Foot
Investigators:
Mathieu Spriet, DVM, MS, DACVR, DECVDI
Larry Galuppo, DVM, DACVS
Imaging of the horse foot has markedly improved over the past 15 years with the development of computed tomography (CT) and magnetic resonance imaging (MRI). Lesions that were unrecognized in the past can now be detected.  The current challenge is to distinguish between active lesions and chronic inactive lesions in order to design appropriate treatment plans and for the assessment of the effectiveness of those therapies. This study assessed the effectiveness of positron emission tomography (PET) imaging for both soft tissue and bone lesions.
Benefits:
The study demonstrated that the PET imaging technology produced high-quality images of the feet and fetlock and the imaging procedures were safe for both the horse and the staff. A wide range of lesions were identified including tendon, ligament, bone and joint lesions not identified with other imaging modalities and abnormal activity in the hoof of a horse with laminitis. The investigators predict that PET will become an invaluable research tool in particular for tendon and laminitis research. PET also has direct clinical applications for the early identification of bone and joint lesions.
Effect of Arena Surface on Fetlock Motion in Jumping Horses (14-05)
Investigator:
Susan Stover, DVM, Ph.D.
Injuries to structures that support the fetlock, pastern, and hoof (suspensory ligament, superficial and deep digital flexor tendons) are the primary causes of performance limitations in show jumpers. The likelihood of injury to these structures increases with high limb loads and greater fetlock extension. Characteristics of the arena surface affect maximum limb loads, and thus the risk for injury. Knowledge of how arena surfaces contribute to the risk for injury can lead to recommendations for arena surface composition and management for injury prevention.
The project studied both dirt and synthetic arena surfaces testing with the approach that a less stiff, more compliant arena surface, with sufficient strength to support the hoof, could result in lower limb loads and lesser fetlock joint hyperextension, and thus have a lower likelihood of inducing common injuries.
Investigators found that the dirt arena surface was stiffer and had higher vertical impact loads than the synthetic surface. Therefore, the dirt arena had more resistance to deformation of the hoof into the surface. However, the synthetic arena surface had higher cohesion (i.e. resistance to horizontal motion or slide of the hoof). During take-off for the jump, fetlock extension and hoof movement were greater on the synthetic arena than the dirt arena surface. During landing, fetlock extension was greater and the toe of the hoof penetrated further into the synthetic arena than the dirt arena surface.
Benefits:
Fetlock and hoof motions were found to differ during take-off and during landing from a jump between different arena surfaces that had different mechanical behaviors. Because extreme fetlock and hoof motions increase the risk for injury, arena surface design and management have the potential to prevent injuries in show jumping horses. However, further work is needed to determine the optimum arena surface design and management for injury prevention.