Frequency of Antibody Detection to Equine Coronavirus (ECoV) in Healthy Horses Living in the U.S. (16-20)
Investigators:
Nicola Pusterla, DVM, Ph.D., DACVIM
Samantha Barnum, M.S.
Kaitlyn James, M.S.
Despite the sporadic occurrence of Equine Coronavirus (ECoV) outbreaks in adult horses, the overall number of horses testing positive for this virus in horse populations has remained poorly investigated. Seroprevalence data, based on blood serum specimens, is needed to better understand the epidemiology of ECoV, evaluate diagnostic modalities and develop preventive measures. Study results revealed the seroprevalence to ECoV was 9.6% in 5,247 healthy adult horses from 18 different states. Seropositivity was significantly associated with horses from the Midwest, particularly in draft horses.
Benefits:
This study represents the first known and most comprehensive seroprevalence study on ECoV in healthy adult horses. Factors contributing to a higher ECoV seroprevalence in the Midwest could be related to a higher population of ECoV seropositive draft horses used for farm and ranch work and breeding in this geographic region. Longitudinal studies are needed to further investigate the various observations and risk factors.
This research was reported in the Veterinary Journal.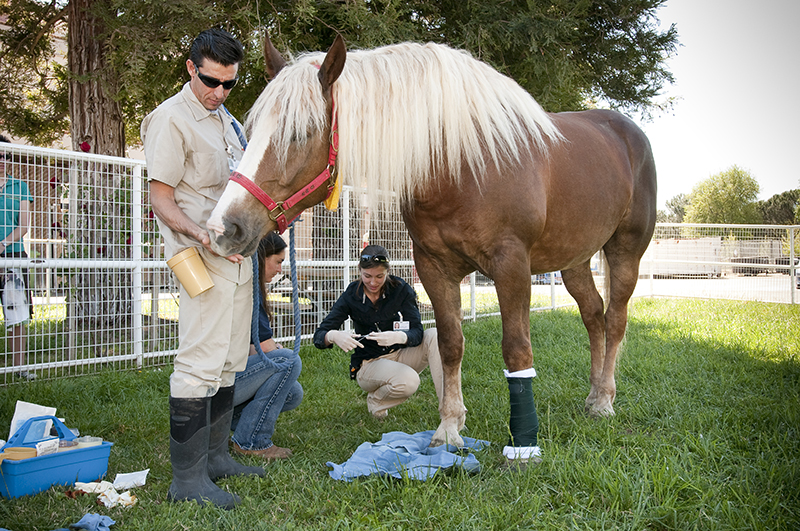 Development of a Serological Test to Detect Antibodies to Equine Coronavirus in Adult Horses (14-09)
Investigators:
Nicola Pusterla, DVM, Ph.D., DACVIM
Samantha Barnum, M.S.
Recently, equine coronavirus (ECoV) has been associated with febrile and enteric disease in adult horses. Since 2011, the laboratory team has been involved with several outbreaks of ECoV across the U.S. The main clinical signs reported were anorexia, lethargy and fever. Although polymerase chain reaction (PCR) testing detects the antigen during the acute disease phase, this project set out to develop an equine-specific antibody-test which would allow determination of exposure amongst infected and asymptomatic horses.
Benefits:
The study established and validated a new S protein-based ELISA test to detect specific antibodies to ECoV. Although RT-PCR on feces is considered the best diagnostic modality to support ECoV infection, this new test will facilitate investigation of disease and infection rates in various horse populations in order to better understand the epidemiology of this emerging equine virus.
Toxoplasma Gondii Seroprevalence and Association with Equine Protozoal Myeloencephalitis (EPM): A Case-Control Study amongst California Horses (16-04)
Investigators:
Nicola Pusterla, DVM, Ph.D., DACVIM
Patricia A. Conrad, DVM, Ph.D.
Woutrina Smith, DVM, MPVM, Ph.D.
Kaitlyn James, M.S.
While the causative agents of equine protozoal myeloencephalitis (EPM) are known, the transition from infection with Sarcocystis neurona and Neospora hughesi to the clinical disease of EPM is not yet understood. Marine mammals infected with both S. Neurona and Toxoplasma gondii have shown increased severity of neurologic disease. Co-infection between the causative agents of EPM and
T. gondii may contribute to the transition from infection to clinical disease in horses. This study sought to determine the seroprevalence, frequency of blood serum samples, with T. gondii amongst California horses with neurologic signs compatible with EPM and neurologically normal horses.
Benefits:
In this study, horses with higher titers to T. gondii (80, 160, 320) were more likely to have clinical signs compatible with EPM than healthy, non-neurologic horses. While there was no evidence that co-infections by T. gondii and S. neurona/N. hughesi were required for clinical signs of EPM to develop, the association between T. gondii seropositivity and clinical EPM suggested that T. gondii was associated with neurologic signs in the study population of California horses. Serologic testing of cerebrospinal fluid and isolation of T. gondii in EPM suspect cases should be considered. Future studies investigating the relationship between T. gondii and EPM are warranted.
This research was reported in the Veterinary Journal.
Assessing Plasma Concentrations Of 1.56% Diclazuril given Twice a Week to Adult Horses (14-15)
Investigators:
Laszlo M. Hunyadi, DVM, M.S., Ph.D.
Nicola Pusterla, DVM, Ph.D., DACVIM
Mark Papich, DVM, MS, DACVCP
EPM is a commonly diagnosed and economically costly neurologic disease affecting horses of all ages, but young performance horses appear to be at greater risk for developing this condition. Opossums are the definitive hosts of the major causative parasite, Sarcocystis neurona. The equine industry is in need of a preventive protocol that is both sustainable and cost-effective.
The administration of a low dose diclazuril every 3 to 4 days was shown to be safe and caused no adverse effects in the study horses. Administration of diclazuril at the lower dose twice a week provided plasma concentrations to effectively inhibit in vitro concentrations for Sarcocystis neurona, a single-celled parasite and the most common cause of EPM in horses in the United States.
Benefits:
On ranches with a high incidence of EPM, the newly established protocol resulting from this study will improve compliance (twice weekly drug administration instead of daily drug administration) and reduce the total amount of diclazuril administered. Overall, this new protocol may reduce the negative effects associated with the use of compounded anti-protozoal drugs for the prevention of EPM.
Frequency of Antibody Detection to Sarcocystis Neurona and Neospora Hughesi in Healthy Horses from various areas of the U. S. (14-03)
Investigators:
Nicola Pusterla, DVM, Ph.D., DACVIM
Patricia A. Conrad, DVM, Ph.D.
Heather Fritz, DVM, Ph.D.
Andrea Packham, M.S.
Kaitlyn James, M.S.
Equine protozoal myeloencephalitis (EPM) is a debilitating cause of neurologic disease in horses across the U.S. Two protozoa pathogens, Sacrocystic neurona and Neospora hughesi, can cause EPM; however, N. hughesi is most frequently reported in the western half of the U.S. This study investigated the prevalence of antibodies to both protozoa across the United States.
Benefits:
This study discovered that horses in regions previously considered at lower risk of infection with S. neurona, and perhaps more importantly, N. hughesi, experienced higher rates of infection than previously thought. Practitioners in all regions of the U.S. should therefore consider testing for both causative agents when presented with a suspect EPM case based on the seroprevalence of S. neurona and N. hughesi in healthy equines.
Iodide Supplementation as a Strategy for Enhancing Equine Innate Airway Defenses: A Possible Preventative Therapy for R. Equi Pneumonia in Foals (15-21)
Investigators:
Meera Heller, DVM, Ph.D., DACVIM
Fauna Smith, DVM
Ken Jackson, M.S.
Johanna L. Watson, DVM, Ph.D., DACVIM
Rhodoccocus equi causes pneumonia in foals and is a major cause of illness and even death. It also costs the equine industry millions of dollars for treatment and prevention. Sodium Iodide has been used to treat similar types of infections in humans and animals for over a hundred years, before the discovery of antibiotics. A recent study showed that oral supplementation with iodine in humans increases the levels of hypoiodous acid (HOI) on the surfaces of the respiratory tract, and this is a potent anti-bacterial and antiviral defense mechanism. There are two potential roles for iodine in the augmentation of the immune response; one is as a treatment for R. equi infections and the other is to prevent infection via respiratory tract surfaces. 
The study demonstrated that live R. equi bacteria could be killed in vitro by sodium iodide. Additionally, when cells from horse's lungs were experimentally infected with R. equi in vitro, sodium iodide slowed the rate of infection. However, when those same cells were infected with R. equi and then treated with sodium iodide, killing of R. equi was not enhanced. Therefore, sodium iodide may play a preventative role in the development of clinical R. equi pneumonia in foals.
Benefits:
The killing of bacteria in the airways and resulting decrease in the rate of infection could aid in the prevention of R. equi pneumonia in foals. Based on these findings, the use of sodium iodide as a preventative treatment for R. equi pneumonia in foals warrants further investigation.