Evaluation of Safety, Humoral Immune Response and Fecal Shedding of a Modified-Live Bovine Coronavirus Vaccine Given to Adult Healthy Horses. (14-16)
Investigators:
James Prutton, DVM (Resident)
Nicola Pusterla, DVM, Ph.D., DACVIM (Mentor)
Samantha Barnum, M.S. (Staff Research Associate)
Equine coronavirus is an emerging disease with a mortality rate of 7-27%. Investigating a vaccination protocol could allow for a reduction on the spread of equine coronavirus in the equine population.
Benefits:
In this pilot study, 25% of horses vaccinated with modified live bovine coronavirus seroconverted, indicating an immune response was mounted in a subset of horses. The project demonstrated the safety of the bovine coronavirus vaccination in horses and demonstrated a limited immune response in certain individuals.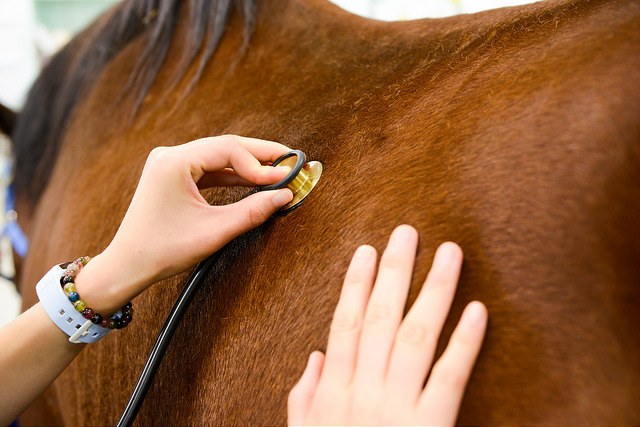 Use of Serum Amyloid A to Differentiate Between Infectious and Non-Infectious Diseases in Horses (14-14)
Investigators:
Fiona Wensley, DVM (Resident)
Nicola Pusterla, DVM, Ph.D., DACVIM (Mentor)
Philip Kass, DVM, MPVM, MS, Ph.D. (Mentor)
Danielle Carrade-Holt, Ph.D. (Research/Development Analyst)
Julie Burges, MS (Clinical Diagnostic Lab Manager)
Kaitlyn James, Ph.D. (Graduate Student)
Serum amyloid A (SAA) is an acute phase protein that has been used in equine practice to assess and monitor horses for inflammation. The researchers in this study hypothesized that SAA alone, or in combination with white blood cell count and fibrinogen, would be a better indicator to differentiate infectious from non-infectious inflammatory disease. Horses were categorized by disease conditions as healthy, healthy vaccinated, inflammatory non-infectious (i.e. osteoarthritis, uveitis, laminitis, strangulating or ischemic colic), inflammatory infectious (i.e. abscess, cellulitis, sepsis) or non-infectious non-inflammatory non-healthy (i.e. neoplasia, Cushing's disease, non-strangulating colic cases such as impactions and enteroliths). 
Benefits:
In this study, SAA performance held a greater overall accuracy when compared to neutrophil count and fibrinogen, both individually and combined, for defining infectious versus non-infectious diseases. When used in conjunction with neutrophil count and fibrinogen, SAA further enhanced the accuracy of differentiating disease status. Use of this assessment tool by veterinarians would enhance their diagnostic evaluation and lead to a more accurate and rapid treatment plan for equine patients.
Effect of Valacyclovir (Anti-Viral) Treatment in an Equine Herpesvirus-5 (EHV-5) Related Lung Disease (Equine Multinodular Pulmonary Fibrosis) (15-33)
Investigators:
Charlotte Easton-Jones, DVM (Resident)
John Madigan, DVM, M.S., DACVIM (Mentor)
Nicola Pusterla, DVM, Ph.D., DACVIM (Mentor)
Samantha Barnum, M.S. (Staff Research Associate)
Recent studies have revealed that equine herpesvirus-5 (EHV-5) is commonly isolated from the lungs of horses diagnosed with Equine Multinodular Pulmonary Fibrosis (EMPF), suggesting that EHV-5 is linked and may be the cause of EMPF. The current theory is that the damage to the lungs from the viral infection may provide the health incident that the horse reacts to with an exaggerated inflammatory response. There are currently no studies assessing the impact of valacyclovir (anti-viral) treatment on the amounts of the virus, EHV-5, in EMPF cases.  Researchers hypothesized that anti-viral therapy with valacyclovir will lead to a decrease in the viral load of EHV-5 in whole blood, nasal secretions and bronchoalveolar lavage fluid of horses with EMPF.
Benefits:
In this study of horses with naturally occurring EMPF treated with valacyclovir, there were no significant differences between the median EHV-5 viral load between day 0 and day 10 for all three of the sample types tested (blood, nasal secretions and bronchoalveolar lavage fluid). Treatment with valacyclovir did not appear to have a significant effect on EHV-5 viral load in EMPF affected horses. Therefore, while valacyclovir is a relatively expensive drug that is routinely used to treat horses with EMPF, this study revealed that 10 days of valacyclovir treatment did not significantly alter the viral amounts of EHV-5 in EMPF horses and therefore may not be a clinically effective treatment.
Do Imported Horses Represent a Significant Risk for the Spread of Respiratory Disease to Resident Equids in the United States? (14-12)
Investigators: 
Fauna Smith, DVM (Resident)
Nicola Pusterla, DVM, Ph.D., DACVIM (Mentor)
Johanna Watson, DVM, Ph.D., DACVIM (Mentor)
Isabelle Kilcoyne, DVM, DACVS (Mentor)
Claudia Sonder, DVM (Mentor)
Imported horses are likely to be stressed during transport and may be at a higher risk of exposure to infectious respiratory pathogens, due to comingling with other horses at sales and shipping barns, during transport and at quarantine facilities. These horses may, therefore, represent a risk for spreading infectious respiratory pathogens into equine populations in the United States.
This study assessed the prevalence of respiratory disease in 166 horses entering the Contagious Equine Metritis quarantine facility at the UC Davis, Center for Equine Health between October 2014 and June 2016. 
Benefits:
Approximately 3.6% of horses were shedding either equine herpesvirus 1 (EHV-1) or EHV-4, which could have serious consequences if introduced into a large barn. Equine influenza positive horses were not identified; however, many samples for influenza testing failed quality control. EHV-2 and -5 were commonly shed in imported horses. At this time, the significance of EHV-2 and -5 in the development of respiratory disease remains poorly understood.
While equine influenza was not identified in any sample, the two important implications from this study are that sampling technique and environmental conditions can affect the quality of the sample and due to the high failure rate, it is possible to miss positive animals.