A legacy of loving horses
The Center for Equine Health (CEH) recently dedicated a foaling stall to the late Patricia (Pat) Yeretzian, who had a deep passion for horses and a commitment to equine health. The state-of-the-art stall is a fitting tribute to her, since foals always held a special place in her heart.
During the dedication, family and friends joined the center in celebrating Yeretzian and her love for horses. Her passion began as a young girl, riding her horse to school from her family's ranch in the Elk Grove area.
"Pat often mentioned that she found solace in spending time with her horses because they offered a special bond and communication that she found nowhere else," recalled Leo Fassler, one of her close friends. "She loved horses and understood them well. Her appreciation for UC Davis was evident in her speech and actions. It is a pleasure to see her legacy live through the Center of Equine Health."
Her passion for horses grew even deeper as an adult. She enjoyed raising American Quarter Horses for 50 years.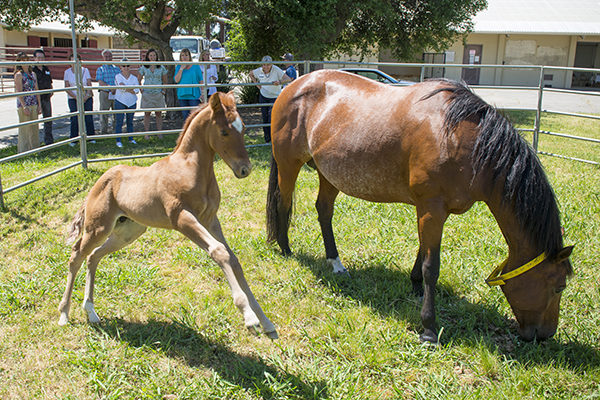 In 1974, Yeretzian's prized stallion, Three Qtr Bars, suffered a bowed tendon at a horse show in San Francisco. She knew that the injury was serious and his competing days were over. But she was devoted to Three Qtr Bars and wanted him to receive the best care. She decided to bring him to the UC Davis veterinary hospital, where a team of specialists successfully performed surgery on him. Three Qtr Bars was able to be ridden in the pasture and enjoyed a long life of 30 years.
The quality of care exceeded Yeretzian's expectations. She was grateful and wanted to ensure that the school's excellent work continues. She and her husband, Paul, were long-time philanthropic partners and envisioned the future by including the CEH in their estate planning. The school recognized the Yeretzians for their generosity and commitment through distinguished giving societies—the Heritage Society for Animals and Silver Stirrup Society.
A gift from their estate established an endowed fund of $3.5 million to support equine reproduction and infertility disorders. While the Yeretzians have passed away, they left an indelible mark, and their generosity will improve equine health for many years ahead.
"We are very thankful to Pat and Paul for their commitment and for the significant impact their gift has on equine health," said Dr. Carrie Finno, interim director for the CEH. "Their generosity will help our center continue our dedicated work in equine reproduction now and into the future."