The Center for Equine Health is involved in equine welfare in a number of areas:
Maintaining animal rescue and disaster medicine endowments to provide funding for animal welfare research and disaster relief.
Collaboration with the International Animal Welfare Training Institute through the UC Davis School of Veterinary Medicine.
Supporting the UC Davis Veterinary Emergency Response Team for the rescue of large animals.
Participating in the largest intramural research program dedicated to equine health in the United States.
Helping develop the UC Davis large animal lift and other equipment for rescuing horses and other large animals.
Development of new technologies for the care and treatment of horses.
Publication of educational materials for the general public as well as veterinary professionals.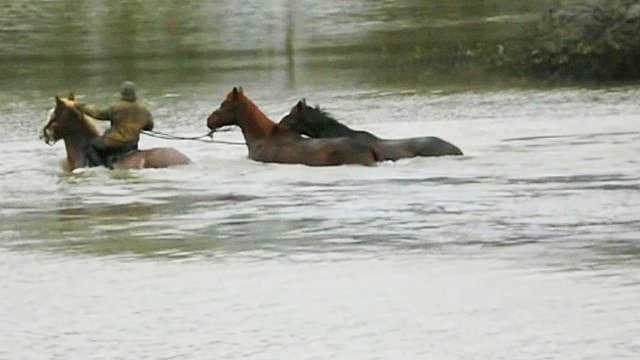 Publications
This publication was written to provide the expert opinions of the authors regarding minimum standards of care for horses with respect to California animal cruelty statutes.  The recommended standards are intended to educate animal control officers when interpreting and applying animal cruelty statutes.
2014 A Guide:  Minimum Standards of Horse Care in the State of California, Revised Edition - February 2014
This publication was written by UC Davis veterinarians to provide a set of guidelines for ensuring that horses maintained within equine sanctuaries and rescue farms receive adequate and proper care.
2009 Equine Sanctuary & Rescue Facility Guidelines (pdf)
Links
International Animal Welfare Training Institute
Veterinary Emergency Response Team
First Responder Guidelines for Equine Emergencies and other disaster training through the Western Institute for Food Safety & Security website:  wifss.ucdavis.edu.